South Dakota tourism performed better than other states in 2020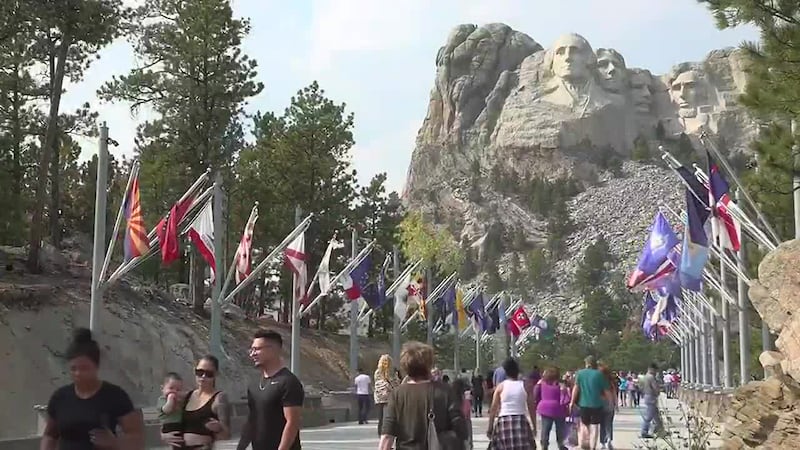 Published: Jan. 21, 2021 at 12:37 PM CST
SIOUX FALLS, S.D. (Dakota News Now) - Governor Noem addressed South Dakota's tourism industry in 2020 and its economic impact as the country continues to feel the effect of the COVID-19 pandemic.
The South Dakota Department of Tourism says the state held its own when compared to other states in 2020. On Thursday, Governor Noem and Secretary of Tourism Jim Hagen released the state's 2020 tourism economic impact numbers.
South Dakota welcomed 12.6 million visitors, a 13% decrease from 2019, according to an annual study done by Tourism Economics.
South Dakota visitors spent $3.4 billion, a decline of 18%, as visitor spending nationwide was down 45%, according to the study.
Spending generated by visitors flowed through the economy and contributed $2.6 billion in GDP, accounting for 4.7% of the state's economy.
"South Dakota's tourism industry faced many challenges in 2020. They adapted and turned it into an incredible year," said Governor Noem. "Because of their efforts, we were able to put more than 3 billion dollars into South Dakota's economy and set the state up for a very bright future."
Tourism generated $276 million in state & local tax revenue. According to the state, without tourism, households would pay an additional $780 more in taxes each year.
South Dakota's Tourism Industry Shows Resilience Despite 2020 Challenges
Below is a list of 2020 economic impact figures provided by the state:
12.6 million – the number of visitors that came to South Dakota. Despite the pandemic, South Dakota saw a decline of only 13% from the previous year.

$3.4 billion – the amount of visitor spending, a decrease of 18%

$2.6 billion – the amount of GDP contributed to the state's economy, representing 4.7% of the South Dakota economy

$276 million – the state and local tax dollars generated by travel and tourism activity. Tourism accounts for 11% of state sales tax collections.

$157 million – amount of tax revenue collected by local governments from travel and tourism activity

$119 million – amount of tax revenue collected by the State of South Dakota from travel and tourism activity

$780 – the amount of tax dollars each South Dakota household saves because of the tourism industry

49,500 – number of jobs supported by the tourism industry, representing one out of 12 jobs in South Dakota. Tourism generated $1.6 billion in income for those employed in those jobs.

Additional 2020 travel indicators:
46.3% – average hotel occupancy for the year, surpassing the national average of 44.7%

3.9 million – the number of hotel room nights booked in 2020

883,000 – number of room nights booked on AirBNB or Homeaway in 2020, a 22.3% increase

8 million – number of visitors to South Dakota's state parks, representing a 31% increase.

2 million – visitors to Custer State Park, reaching the 2 million mark for the first time in history

408,000 – airport arrivals at Sioux Falls and Rapid City Regional Airports, a 48% decrease

To view the full 2020 Tourism Economics report, visit SDVisit.com.
Copyright 2021 Dakota News Now. All rights reserved.