Sioux Falls police solve crimes at higher-than-national rate
Published: Mar. 3, 2021 at 11:53 AM CST
SIOUX FALLS, S.D. - Like many other cities across the U.S., Sioux Falls saw a spike in crime last year, specifically in homicide cases.
According to police, there was an increase in violent crimes and a slight increase in property crimes in Sioux Falls. Despite the increase, crimes in the city were solved at a rate that beats the national average.
In a press briefing Wednesday, Mayor Paul TenHaken said the Police Department's high clearance rate is a testament to the officers serving on the force.
The city saw 13 homicide cases in 2020, which is higher than recent years. Police Chief Matt Burns said five of those cases were narcotics-related. The suspect and the victim each other in 10 of those homicides, including three involving domestic disputes.
Sioux Falls police have solved every homicide over the last 20 years.
Police seized a record amount of fentanyl last year - 308 grams in total - compared to 47 grams in 2019, which was the first year police recorded any fentanyl seizures. Authorities also seized over 64 pounds of methamphetamine in 2020, which is roughly half of 2019′s total, though still higher than other recent years.
Burns said he believes stress from the COVID-19 pandemic contributed to the rise reported in several categories in this year's report. Domestic assault cases were up significantly compared to recent years. The number of suicides police responded also increased slightly to 32, though Burns said that the city's suicide rate is around the national average.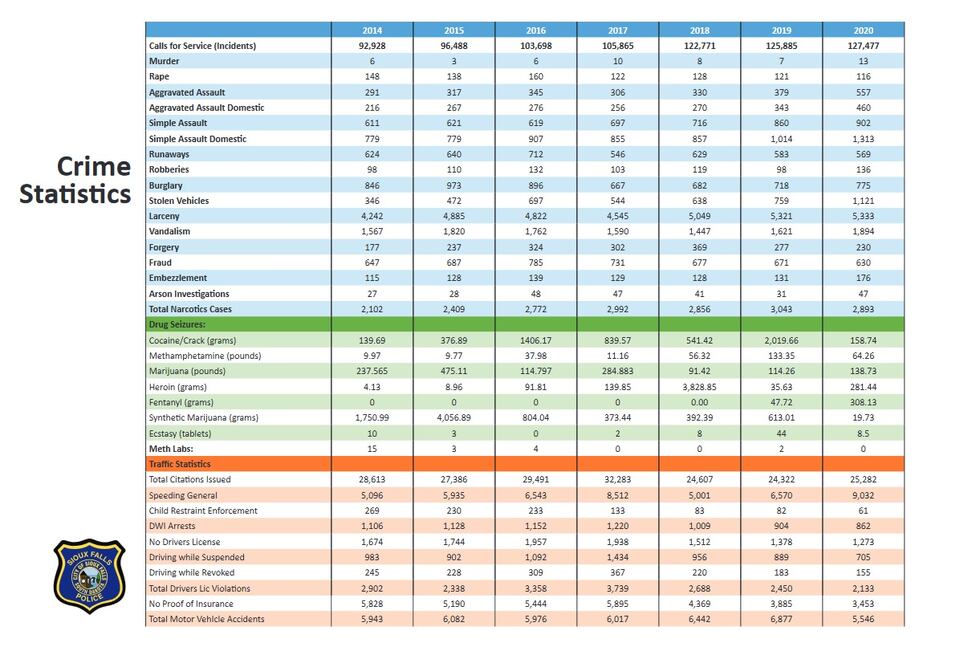 The Associated Press contributed to this report.