SDSU team selected as finalists for NASA contest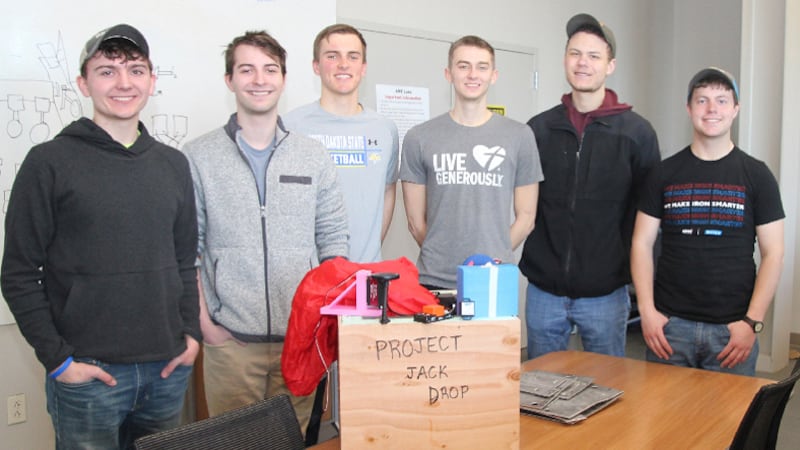 Published: Feb. 16, 2023 at 3:00 PM CST
BROOKINGS, S.D. (Dakota News Now) - Six senior mechanical engineering majors from SDSU have been selected as finalists in a challenge from NASA alongside teams from five other schools from around the nation.
The team is comprised of regional seniors Ben Brainard from Prior Lake, Minnesota, Braydon Crawford from Flossmoor, Illinois, Adam Forman from Pierre, Zack Strong from Britton, Evan Talcott from Brandon and Brett Wartner from Marshall, Minnesota.
They will be competing in the FLOATing DRAGON Challenge, NASA's simplified title for the Formulate, Lift, Observe, And Testing; Data Recovery And Guided On-board Node (FLOATing DRAGON) Balloon Challenge.
The team faces the difficult challenge of autonomously detaching a 1-kilogram data recovery vault from a large balloon 120,000 feet in the stratosphere and safely steering the box back to a designated landing spot undamaged.
The National Institute of Aerospace, who is managing the contest for NASA, didn't disclose the number of entries, but said the team was selected from a "very competitive" field, opting to have six finalist teams instead of the originally planned four.
"The judges decided to select six teams instead of four because of a combination of merit and diversity of concepts. Selecting six teams enables NASA to explore trade spaces for a wide variety of concepts tested by the universities. It's a win-win," the institute's Robin L. Ford said.
The other finalist teams are from Princeton, Purdue, the University of Texas, the University of California-Davis and Notre Dame, schools known for their impressive engineering programs.
"What makes the FLOATing DRAGON project special is at the end, they actually want to use this (winning) system," said Todd Letcher, an associate professor in the mechanical engineering department. "By January (2024), NASA could incorporate into one of their balloon launches the technology we have worked on. A year from now they could very well be using one of the team's projects to retrieve data regularly."
The students started working on their entry, which they are calling "Project Jack Drop", in late August and submitted concepts for finalist consideration in early January. The team was sent their $5,000 project stipend last week and they will have until August 15 to design and review the project before testing begins at Fort Sumner, NM.
The team will receive their flight data in October to use for a final technical paper they will submit at the end of the year. The project will wrap when NASA meets with the teams in January of 2024.
Copyright 2023 KSFY. All rights reserved.