Defeated house bills leave South Dakota landowners vulnerable to eminent domain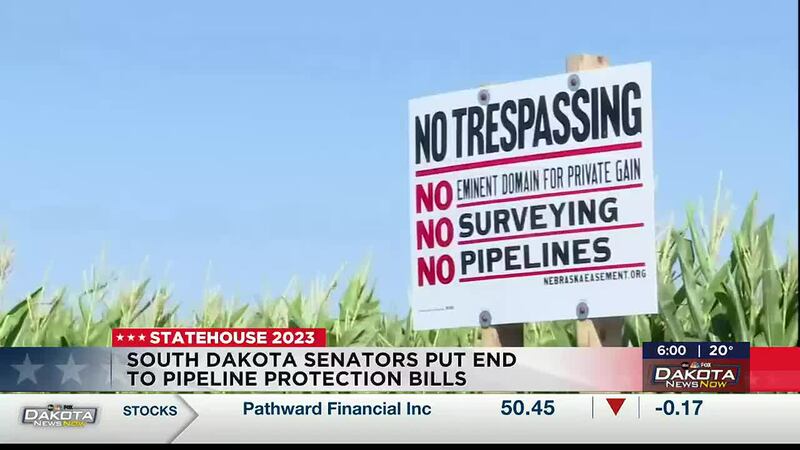 Published: Feb. 17, 2023 at 9:56 AM CST
SIOUX FALLS, S.D. (Dakota News Now) - An effort by a number of South Dakota state lawmakers to add extra protections for landowners against eminent domain fell short on Thursday.
HB 1133 would have redefined carbon so that it was not a "common carrier," making the carbon pipeline unable to use eminent domain.
"HB 1133 allows economic development of any kind while at the same time leveling the playing field for landowners. So they have a choice to accept the restrictions and effects of a project, such as a hazardous pipeline, or to respectfully decline such an intrusion on their land," said Rep. Karla Lems.
Representatives and lobbyists from the summit carbon and navigator pipeline companies showed up to push lawmakers back to their camp.
"Our industry and even agriculture is at a crossroads because we know where it is going. If we fail to lower our carbon footprint, we can write our obituary," said Jim Seurer, Glacial Lakes Energy CEO.
The room was once again packed with concerned landowners, many of which provided emotional testimony on the issue.
"It feels as if no South Dakota land is sacred. We feel it is wrong that landowners have to pay for a lawyer and lobbyist in hopes to protect our land rights. Where is the respect for south dakota landowners? We thought there was respect for property rights but apparently not," said Wendy Schulz a South Dakota landowner.
Ultimately, lawmakers agreed that the pipeline was important for "protecting ethanol" and it was too late in the game to be "changing the rules."
"CO2 is similarly a commodity... its fungible, it is bought and sold, it is used in commerce. It is used as a refrigerant, for fire extinguishers, for inflating life rafts, blasting coal, and for carbonating beverages," said Brett Koenecke, Summit Carbon Solutions Lobbyist.
Lawmakers on the commerce and energy committee defeated that bill unanimously and also defeated another bill to incentivize companies using eminent domain to make a better offer earlier on in the process.
Copyright 2023 KSFY. All rights reserved.