Noem wants permanent tax cut, threatens veto in video
In a video posted to social media Tuesday, Noem threatened to veto a temporary tax cut, just a day after the Senate amended a sales tax cut to be temporary.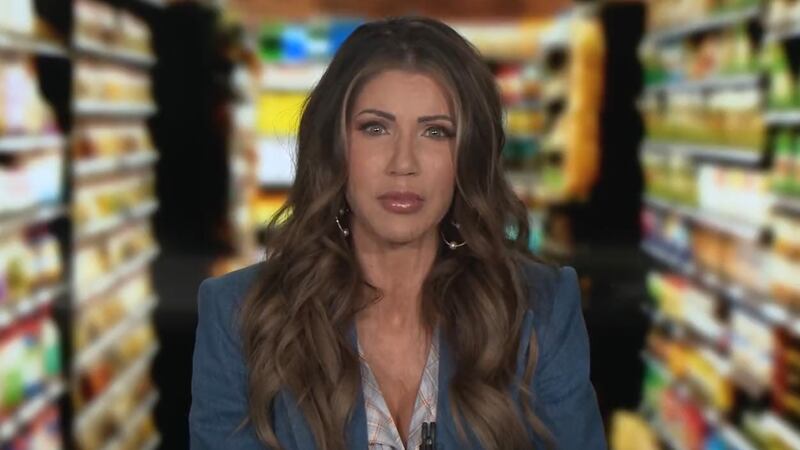 Published: Feb. 28, 2023 at 2:11 PM CST
PIERRE, S.D. - South Dakota Gov. Kristi Noem is not a fan of a temporary tax cut.
That's according to a nearly five minute video posted by Noem to her social media accounts Tuesday.
"It's no secret that for over a year now, I have been an advocate for removing the sales tax on groceries, but last week the House of Representatives picked a different tax cut. Yesterday, the Senate Tax committee put a sunset clause on that tax cut, so it will go away in two years."
Monday, the Senate Taxation committee agreed to the .3% sales tax cut, on the condition that a "sunset clause" be attached to the bill, at the behest of Senate leadership.
That means that the sales tax would go back to 4.5% July 1st, 2025 if the bill were to pass in its current form.
"They have chosen this option because they recognize that the people of South Dakota will support repealing the tax on groceries in the near future. They are worried that we can't support two tax reductions," Noem said.
Noem has been a strong advocate for cutting the state's sales tax on groceries, going back to her gubernatorial campaign late last year. House Republicans by and large favored a sales tax cut across the board, raising specific concerns about creating a carve out just for groceries and the sustainability of the cut.
But Noem and other proponents pointed to internal polls indicating that South Dakotans are more supportive of the grocery tax cut than the general sales tax cut.
Last week, Noem said that she didn't intend to leave session without a tax cut.
Tuesday, she threatened to veto a temporary one.
"I have proven in the past that I am willing to make hard decisions, and I will again. Especially if it is something that respects the will of the people."
The intervention in tax cut negotiations by Noem only makes the conversation around tax cuts this session more complicated, as more cautious Senators negotiate with eager House members on tax cuts. Both Noem and detractors have pointed to a looming grocery tax cut ballot initiative as affecting their decision on what tax to cut.
For Senate leadership, little has changed in the wake of Noem's threat.
"I'm focused on the Senate," President Pro Tempore Lee Schoenbeck (R-Watertown) said in a statement to Dakota News Now/KOTA Territory.
Copyright 2023 KSFY. All rights reserved.