Augustana offsets study abroad carbon emissions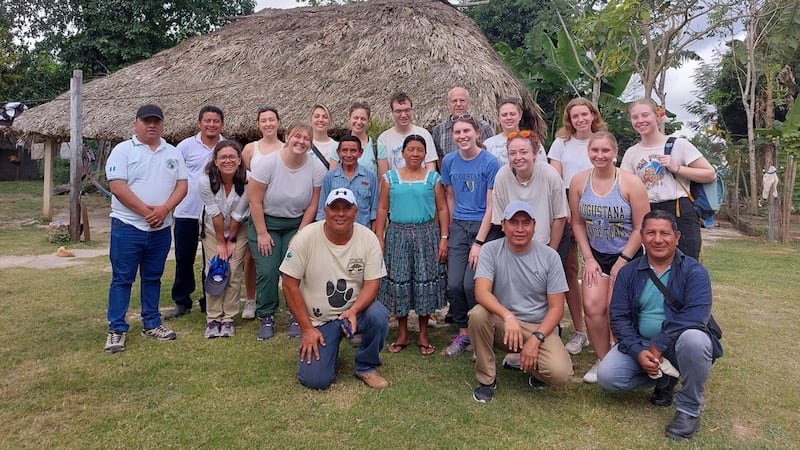 Published: May. 2, 2023 at 10:01 AM CDT
|
Updated: May. 2, 2023 at 10:02 AM CDT
SIOUX FALLS, S.D. (Dakota News Now) - Augustana has made its January Interim study-abroad travel carbon neutral for the first time in university history, thanks to the support of donors and a relationship with a forest reserve in Guatemala.
"I think it's not only the right thing to do to figure out how to offset our carbon emissions, but it's also a strategic decision as we think about what's important for the next generation of students who will come to AU," said Augustana Director of International Programs & Enrollment Ben Iverson.
At Augustana, more than half of its students study abroad by the time they graduate, a majority of them doing so through AU faculty-led courses over J-Term. During J-Term 2023, 275 Augustana students traveled to nearly a dozen different countries as part of 13 courses, providing them with unique hands-on and immersive cultural experiences.
"It's the most impactful teaching I've ever done," said Augustana Professor Emeritus of Biology Dr. Craig Spencer, who has been leading study-away courses to Guatemala since 2007. "So much so that I didn't want to give that course up even when I retired. But, always in the back of my mind, I felt one of the downsides was increasing our carbon footprint."
On a mission to have Augustana become a "role model for the world," students in Spencer's course calculated how much it would cost to offset the university's carbon footprint from air travel in January 2023. The students estimated that 276 metric tons of carbon were emitted into the atmosphere, and then multiplied that by the 2022 fair market value of $36 per ton to offset these emissions. Nearly $10,000 was needed to offset the cost of travel.
"The next best thing (next to not flying at all) is trying to offset that carbon emission by supporting, encouraging, helping promote storage of that amount of carbon somewhere else by taking that carbon out of the air, and we already have a beautiful natural system that does that," said Spencer. "If we want to go to a place that is the most efficient at doing that, it's the tropical forests, with the tremendous amount of plant biomass found there. The plants remove carbon dioxide from the atmosphere during photosynthesis, store it in plant biomass and release oxygen back into the atmosphere."
Through Spencer's initial J-Term course studying tropical forests, he was able to form the relationship between Augustana and Bio-Itzá, which manages a large tropical forest reserve in northern Guatemala. Over the years, more than 100 Augustana students and six professors have spent time with Bio-Itzá, studying forest ecology and sustainability. The AU community has lived with host families in the small community of San José, and worked on a number of service projects in the forest, as well as in the community.
The impact the forest and reserve have had on students and the world is why Augustana, with the support of anonymous donors, chose to donate $10,000 to the Bio-Itzá Association as a way to offset Augustana's carbon footprint this past January. The funds provided will be used to protect and enhance the Bio-Itzá Forest Reserve in various ways, such as planting trees, hiring additional forest rangers to protect the forest, clearing fire breaks and possibly securing additional land that is threatened by deforestation.
"These folks (at Bio-Itzá) that do this are my heroes," Spencer explained. "In some cases, they're putting their lives on the line to protect the forest, so if we can help them fight the good fight, I can't think of a better investment really."
The IPO is in the midst of trying to figure out whether offsetting carbon emissions for study-away travel is something Augustana can continue to try to fund in the future.
To learn more about the IPO at Augustana University, visit augie.edu/IPO.
Copyright 2023 KSFY. All rights reserved.