Judge rules in Summit's favor to survey private land, landowners plan to appeal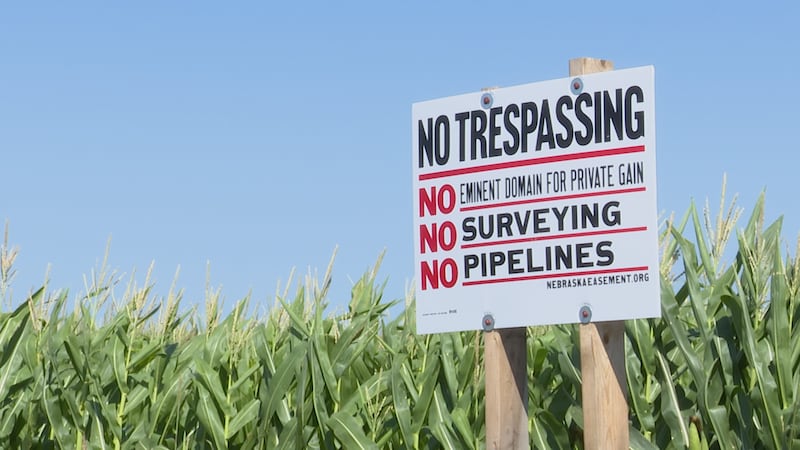 Published: May. 2, 2023 at 12:36 PM CDT
ABERDEEN, S.D. (Dakota News Now) - Summit Carbon Solutions has been permitted to conduct survey work on private property without needing to obtain permission from landowners.
A civil lawsuit against Summit was filed by landowners from McPherson, Brown, Spink and Edmunds County in July of 2022.
The company intends to construct a carbon pipeline that will run through a dozen counties in South Dakota. The purpose is to capture carbon dioxide from ethanol plants and sequester it underground in North Dakota. This will help reduce the carbon emission footprints of the plants.
Some landowners, however, are resisting the project due to threats of eminent domain being utilized. These landowners have argued that they have the right to deny Summit Carbon Solutions surveyors access to their property under both the South Dakota and U.S. constitutions. The basis of the argument is that a carbon pipeline is not a "common carrier" pipeline.
On February 10, 2023, Summit filed a motion for summary judgement on the lawsuit. In response, the landowners filed a motion to continue. The case was heard by Circuit Court Judge Richard A. Sommers on March 14, and Sommers granted Summit's request for summary judgement on April 21.
While the ruling allows Summit Carbon Solutions to survey private lands for the pipeline, they will still have to get a permit approved by the Public Utilities Commission before the construction of the pipeline can begin. The permit hearing is currently scheduled for September.
From the outset of our project, Summit Carbon Solutions has been committed to partnering with landowners and conducting the surveys and examinations necessary to maximize safety to the public and environment. We are pleased that a South Dakota court has issued a decision reaffirming that state law allows this important work to continue.

More broadly, our team remains incredibly encouraged that South Dakota landowners have voluntarily signed easement agreements accounting for two-thirds of the company's proposed route in the state. This overwhelming level of support is a clear reflection that they believe like we do that our project will ensure the long-term viability of the ethanol industry, strengthen the agricultural marketplace for farmers, and generate tens of millions of dollars in new revenue for local communities across the Midwest. We look forward to continuing to advance this critical project through the regulatory process in South Dakota and the other states in our project footprint.
Brian Jorde of Domina Law Group, who represented the landowners in the case, said they plan to appeal to the Supreme Court.
In a statement given to Dakota News Now, Jorde outlined the landowners' plans moving forward and their grievances with the ruling.
"We are appealing Judge Sommers order as to all landowners we represent. The order did not cover any Tenants of landowners under the challenged law it is clear that tenants in possession of the land in question have separate and distinct legal rights and notification requirements. The record on appeal is clear Summit failed to comply with the law in notifying tenants. I understand tenants are now contacting their respective Sherriff's and State's Attorney's offices relative to their distinct property interests which are separate and apart from the order that was entered as to landowners only.

Summit also failed to put on any evidence that the bond the secured is sufficient to cover potential damages across the hundreds of surveys they seek. Summit failed to prove that an entity transporting its own CO2 is engaged in transportation "for hire" – in fact there is no evidence in the record that anyone is hiring Summit to transport CO2 in South Dakota or anywhere else. Summit did not sit for a deposition and refused to provide sworn testimony subject to examination and rather only offered self-serving affidavits that Landowners were prevented from challenging via deposition.

The order also allows Summit to permanently and forever change the nature and character of landowners property, which is the hallmark of a taking."
Copyright 2023 KSFY. All rights reserved.