Owners of emotional support pot-bellied pig kept against city ordinance could face criminal charges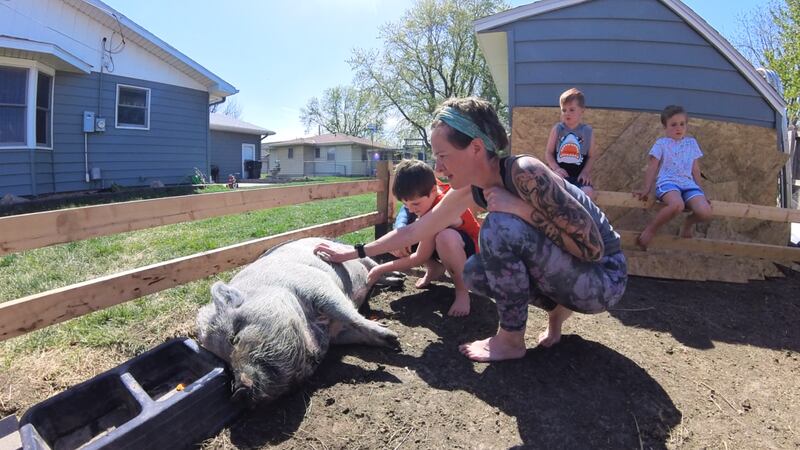 Published: Jul. 20, 2023 at 5:55 PM CDT
NEWTON, Kan. (KWCH/Gray News) - A family in Kansas keeping a pot-bellied pig as an emotional support animal against the city's ordinances may now be facing criminal charges.
KWCH reports that the Grigoreva family kept the pig, named Ginger, as an emotional support animal for their oldest son, Owen.
Although city leaders have expressed sympathy for the family's situation, commissioners this spring opted against changing its ordinance that doesn't allow Ginger to be kept in the city's limits.
Jessica Grigoreva said she refuses to move Ginger or surrender the pet and could now face criminal charges.
In May, Grigoreva addressed city commissioners, explaining the purpose Ginger serves for her son. She cited allergies as the reason a pot-bellied pig works better as a support animal for her son than a dog.
She also made a case for why pot-bellied pigs shouldn't be considered livestock, which is why, by ordinance, Ginger is not allowed to live in town.
Grigoreva said she has tried to stay positive, hoping for a good resolution to the issue that started with an anonymous complaint about Ginger. She said other neighbors have supported the pot-bellied pig being kept and have even come over to pet and feed her.
KWCH reports support for the family has expanded across the U.S. as well as Canada and the United Kingdom.
"The thought that we may have to remove her has been very difficult for everyone in our house," Grigoreva said.
Grigoreva said she will be criminally charged with harboring an animal.
The dire situation has caught the attention of attorney David Graham, who is now contesting the ordinance and arguing it is unjust in Ginger's case.
"In this case, pigs are allowed in the city of Newton under certain circumstances, just not purely as a pet," Graham said. "That's not right. That doesn't make sense. That's not rational."
While the Grigoreva family does have options if they have to rehome Ginger, they said they are not taking that step for Owen.
"At the end of the day, the mental health of my son would be compromised. It's not an option," Grigoreva said.
Copyright 2023 KWCH via Gray Media Group, Inc. All rights reserved.