Authorities respond to car vs ambulance crash in South Sioux City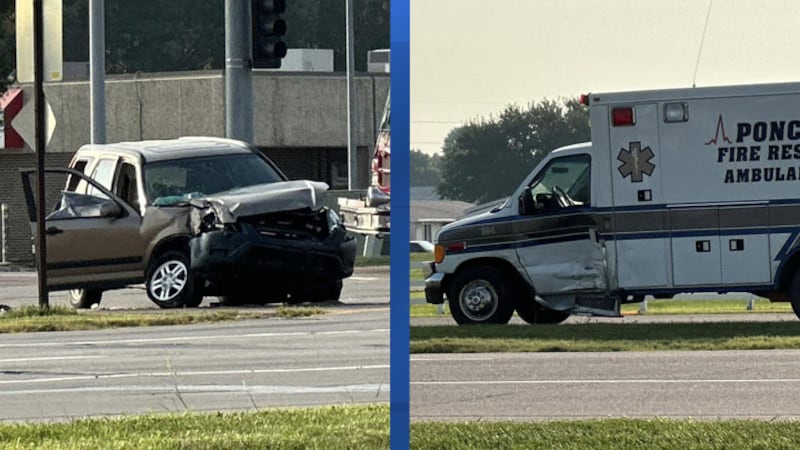 Published: Aug. 21, 2023 at 9:11 AM CDT
UPDATE
SOUTH SIOUX CITY, Neb. (KTIV) - Roads were closed and traffic was backed up in South Sioux City Monday morning after an ambulance was involved in an accident.
South Sioux City Police say just after 7:30 a.m. at West 29th Street and Highway 77, a Ponca Fire Rescue Ambulance was transporting a patient when it was struck by a vehicle. According to police, the ambulance was struck by a car of teenagers on their way to school.
The patient in the ambulance was just involved in a rollover accident in Dixon County, Nebraska and was being transported to a Sioux City hospital.
An EMT in the ambulance had significant injuries and was transported, along with the ambulance's patient, to a hospital. The teenagers had no significant injuries but had bruising.
Law enforcement has confirmed the ambulance's lights and sirens were on as they were going through intersections. Police are reminding drivers to be aware of their surroundings while on their commute.
"Just because you have a green light, you have to be very careful that the vehicles traveling in the other direction. Just because they have a red light does not mean they are going to stop, whether it's an emergency vehicle or not," said Sgt. Shawn Jensen with the South Sioux City Police Department.
Patients were transported with the help of South Sioux City resources. Parts of Northbound 77 were closed for cleanup.
This accident remains under investigation.
PREVIOUS
SOUTH SIOUX CITY, Neb. (KTIV) - The South Sioux City Police Department was sent to an accident Monday morning for a crash involving an ambulance crash.
The car vs ambulance crash happened at the West 29th and Hwy 77 Bypass. The highway's northbound lanes were closed after the crash, with police asking commuters to find an alternate route if possible.
The ambulance involved in the crash was from Ponca Fire Rescue.
Copyright 2023 KTIV. All rights reserved.