October Art & Wine Walk offers chance to see new Pavilion exhibitions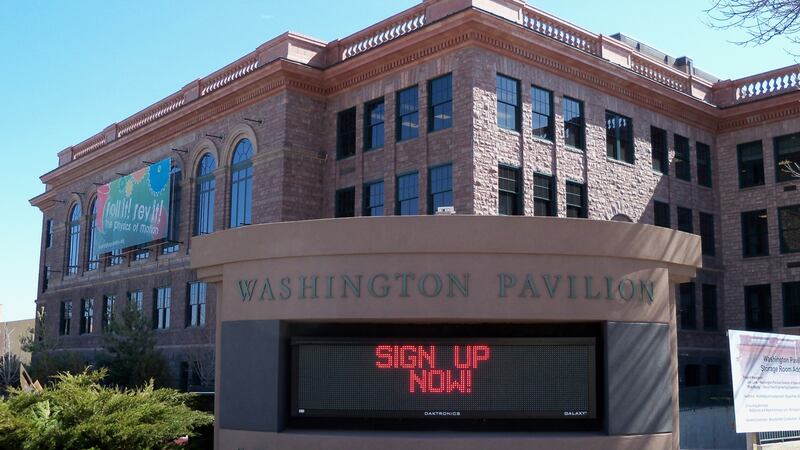 Published: Oct. 4, 2023 at 11:35 AM CDT
SIOUX FALLS, S.D. (Dakota News Now) - This Friday will be the community's first chance to experience the new exhibitions on display at the Visual Arts Center in the Washington Pavilion.
Visitors headed to downtown Sioux Falls for the October Art and Wine Walk are welcome to stop in during the Visual Arts Center's monthly Free First Friday event and see the new art.
The eight galleries of new work will offer free admission from 5 - 8 p.m.
"We are extremely fortunate to have some of our most talented local artists right here in our eight galleries," says Jana Anderson, Lead Curator for the Visual Arts Center at the Washington Pavilion. "This collection of inspiring and thought-provoking artwork comes in a variety of formats, so visitors of all ages are bound to see something they love. We cannot wait for the community to enjoy this phenomenal art during a fun night downtown with Free First Friday and the October Art and Wine Walk!"
The Washington Pavilion offered a preview of what each exhibition has to offer:
Say It Loud | Jerstad Gallery | Now – October 27, 2023
In collaboration with the American Institute of Architects South Dakota and the Sioux Falls Design Center, this exhibition spotlights the contributions of women and diverse designers to the state's built environment. In addition to featuring projects created by 30 local women and diverse design professionals, Say It Loud includes interviews about their experiences in architecture and design.
The Bigger Picture | Shultz Gallery | Now – October 29, 2023
This exhibition delves into the psychological needs of children for their healthy development in society and the repercussions of cultural shortcomings in meeting those needs. Artist Ella Ratliff identifies five fundamental human requirements: identity, social interaction, love, support and security. Her artwork juxtaposes photorealism with a gestural style, highlighting the contrast between fulfilled and unfulfilled needs.
South Dakota Governor's 10th Biennial | Everist Gallery | Now – November 12, 2023
This traveling exhibition celebrates our state's artistic excellence and diversity. It's the 10th and largest biennial featuring 74 works of art, representing 69 artists. There are numerous strong connections to the natural world, some quite solitary images, some ghostly, some humorous and experimental while others seem cast in a dreamlike state. Viewers will experience the wide-ranging and insightfully creative directions being pursued within the arts in our state today.
Obscure Visions: Abstract Photography by Jack Paladino | Gallery 301 | Now – Dec. 1, 2023
The abstract photography of Sioux Falls-based photographer Jack Paladino is driven by chance and serendipity, resulting in one-of-a-kind pieces. Inspired by midcentury artists, his work blurs the line between reality and abstraction. Viewers are invited to find meaning in the forms he creates, which often transcend traditional boundaries.
Reclamation Through Transformation | Egger Gallery | October 6 – February 25, 2024
In this exhibition, Native American students from Flandreau Indian School have reimagined history by creating art from archival materials. Their work is displayed alongside artwork from the Visual Arts Center Northern Plains Tribal Collection, creating connections and promoting native voices and perspectives. The resulting exhibition was co-curated with a Native American student curator that allows for the transformation of those archival materials by re-presenting them as reauthored and reclaimed.
Astrographica: Preparations for Space Exploration | University Gallery | Now – May 31, 2024
Wes Eisenhauer explores the endless expanse of the universe and seeks to capture its raw power, innovation and beauty. A Sioux Falls-based photographer, Wes is inspired by our extraordinary world and aims to document it from a unique perspective and with a sense of wonder. Wes' immense talents have led him to photograph for NASA, where he was tasked with creating images to help them celebrate Artemis Day across the country.
How to See | Bates Trimble Heartland Gallery | October 6 – April 27, 2024
This exhibition was born out of the spirit of collaboration between two artists who understand the prairie. Tom Dempster and Molly Fulton are South Dakota-based artists working in their respective mediums of photography and acrylic paint. Together their collaborative "photo paintings" speak to an expression of what lies beneath the visual senses of the landscape.
Coming Soon:
Style and Stigma | Contemporary Gallery | October 17, 2023 – April 21, 2024
Style and Stigma brings together the floral and figurative paintings of Geneva Costa and Anna Youngers. This grouping of works draws on methods of traditional realism to create a dialogue between the real and the ideal. Exploring their work together invites the intersection of contemporary commentary and timeless beauty while offering a fresh perspective on the power of realism in contemporary art.
Copyright 2023 KSFY. All rights reserved.