South Dakota's leaders respond to attack on Israel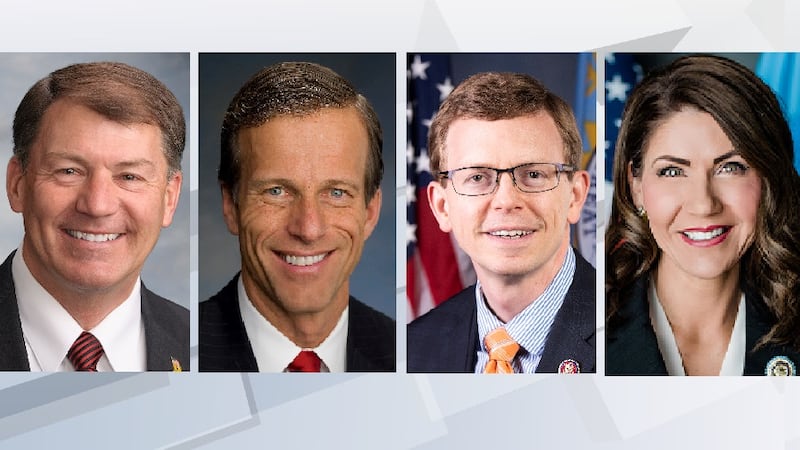 Published: Oct. 7, 2023 at 3:59 PM CDT
SIOUX FALLS, S.D. (Dakota News Now) - South Dakota's congressional leaders and Governor Kristi Noem weighed in on the unprecedented attack by Hamas near the Gaza strip that broke out on Saturday during a major Jewish holiday.
Governor Noem released a full statement, saying
"Beloved people of Israel: your friends and allies in America stand with you. We support you in defending the homeland given to your people by God. These barbaric actions have shocked the conscience of the world. We share your anger at the viciousness of these attacks and the death, pain, and suffering it has caused, and we support your right to use all measures necessary to prevent future attacks.

"During my time on the House Armed Services Committee, I saw what regular violence perpetrated by Hamas terrorists against Israel looks like. This goes so far beyond that – this was an act of war, an invasion of your sacred home.

"We are praying for a swift resolution to this war; for safety and peace for the hostages taken by the Hamas terrorists; for comfort to the families who have lost loved ones or whose lives have otherwise been forever changed by this horrific day; for the first responders to act calmly and quickly in their work of healing and repair; for Prime Minister Netanyahu and his armed forces to strike swiftly, truly, and with justice; and for Hamas to be driven from the face of the Earth as a just consequence for their atrocities.

"In the coming days, all Americans – and the whole world – must stand firm in our resolve to support the Israeli people. As Prime Minister Netanyahu said, 'This war will take time. She will be hard. Challenging days are ahead. But… with the help of God… we will win.' Godspeed to you, my friend Prime Minister Netanyahu, and to your people. You will win, and you have our support every step of the way."
Israel is used to being attacked. This is different. As Prime Minister @netanyahu said:

"Citizens of Israel, we are at war — not in an operation or in rounds, but at war."

We stand with Israel, our tremendous friends and allies.

— Kristi Noem (@KristiNoem) October 7, 2023
Senator John Thune condemned the attacks which he called a "senseless terrorist attack on Israel." Thune also said he stands with Israel and called the nation one of America's strongest allies.
Representative Dusy Johnson called the attacks "wholly unconscionable" and also said he stands with Israel.
Senator Mike Rounds said he was "shocked and saddened" to see the attacks, which he condemned.
Shocked and saddened to see the horrific attacks by Iranian-backed terrorist group Hamas on the Israeli people. The United States condemns this senseless violence and stands ready to assist our ally Israel as they defend their nation.

— Senator Mike Rounds (@SenatorRounds) October 7, 2023
Copyright 2023 KSFY. All rights reserved.