Iowa Pork Producers add Alec Cook to 'Purchase More Hamann Bacon' NIL deal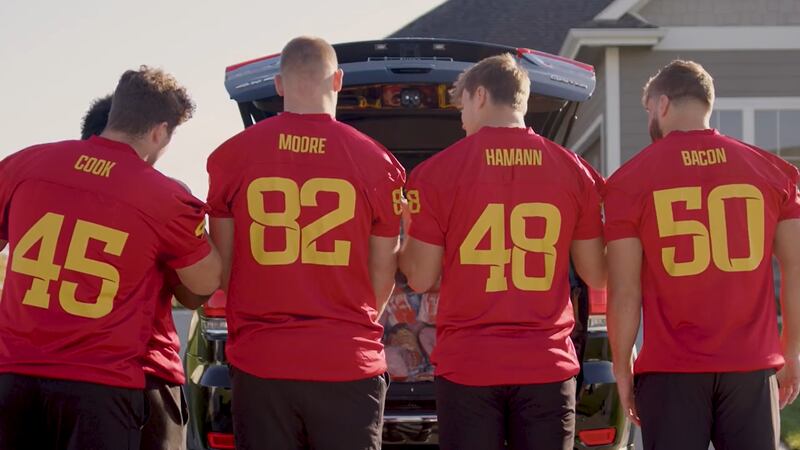 Published: Nov. 1, 2023 at 9:14 AM CDT
CLIVE, Iowa (KCRG) - The Iowa Pork Producer Association is adding another Iowa State player to its "Purchase Moore Hamann Bacon" marketing campaign.
The NIL deal now includes Cyclones Linebacker Alec Cook.
The marketing now encourages Iowans to not just purchase more ham and bacon, but to also cook more ham and bacon.
In a 30-second video posted on social media, the four players, Myles Purchase, Tyler Moore, Tommy Hamann and Caleb Bacon stand with their backs to the camera so their last names are visible. The image cuts to a vehicle's trunk full of ham and bacon, and Purchase asks, "so, now what?"
Alec Cook then steps into frame behind Purchase so the names on the backs of the jerseys reads "Cook Moore Hamann Bacon."
The Iowa Pork Producers Association said it is donating $4,000 worth of pork to food pantries in the hometowns of Myles Purchase, Tyler Moore, Tommy Hamann and Caleb Bacon on behalf of the players to help fight food insecurity.
The IPPA is now also providing an additional $1,000 worth of pork for each food pantry, as well as the Food Bank for the Heartland in Omaha, which is Alec Cook's selection.
"Thank you to Iowa pork producers for giving us the chance to use our last names to promote the swine industry," said Alec Cook, a redshirt freshman linebacker from Omaha. "It was a lot of fun to work together while also helping out our local communities."
Copyright 2023 KCRG. All rights reserved.