Multimedia Journalist
Las Vegas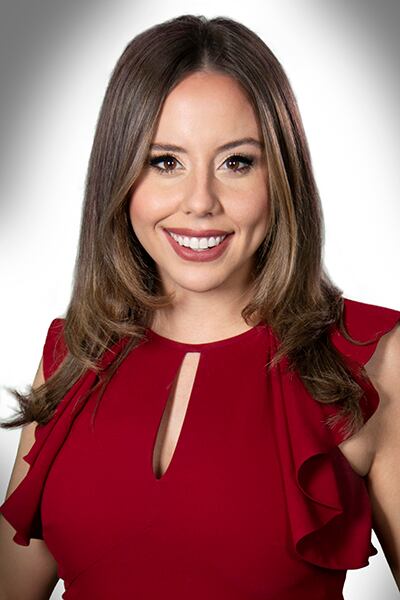 Maddie White is a multimedia journalist (MMJ) and Weekend Morning Anchor for FOX5.
As a reporter, she focuses on solutions-based journalism, and hopes to bring Nevadans resources and guidance when they need it most.
Maddie comes to the valley directly from Boise, Idaho, where she worked for more than two years as an MMJ and weekend anchor for KIVI-TV.
Prior to this, she studied and worked in the CBS Media Center for ATVN's Annenberg Media in South Los Angeles. Where she honed her skills in front of the camera and behind the scenes as an assignment editor and photographer.
A proud Trojan, Maddie is a graduate of the Master's program at University of Southern California's Annenberg School of Journalism. She also has a Bachelor of Fine Arts in acting from Pace University in New York City — where she lived for a handful of years in her early 20s.
Maddie is a San Diego native, and grew up surrounded by an arts-and-music-loving family in the picturesque beach town of Coronado, California.
When she's not reporting, Maddie enjoys playing guitar, going on bike rides, and sifting through vintage clothes and vinyl. She also enjoys scoping out the culinary scene in Las Vegas and connecting with viewers on social media. Find her on Facebook, on Twitter, and on Instagram.
Updated: Oct. 26, 2022 at 4:52 PM CDT
|
By
Maddie White
and
Andrew McMunn
Police said a man was arrested after the children were found safe.
Updated: Jul. 19, 2022 at 12:55 PM CDT
|
By
Cody Lee
,
Elaine Emerson
,
Maddie White
,
Drew Andre
and
Debra Worley
The single-engine planes crashed mid-air during landing above the airport and landed in different areas – one upside down on a runway and the other in flames near an airport fence.
Updated: May. 11, 2022 at 5:04 AM CDT
|
By
Maddie White
and
Gray News staff
Parents say a public school teacher showed an "inappropriate" anti-abortion performance video to her sixth-grade classes.