Addressing an unprecedented workforce shortage in South Dakota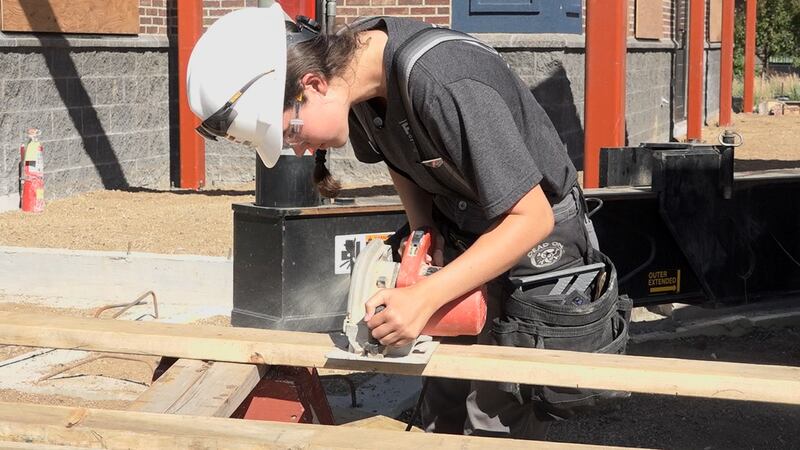 Published: Aug. 6, 2018 at 2:41 PM CDT
Last month the national unemployment rate dropped below four percent, continuing a year long downward trend.
South Dakota is seeing the same downward trend with rates already lower than that national average.
While these low unemployment numbers are a sign of a strong economy, it also creates some big challenges.
It will take hundreds of hands to construct the new Avera hospital in Sioux Falls.
"They'll be anywhere from food service and housekeeping types of jobs, to nurses, technicians, and physicians," Lynne Hagen, human resource officer for Avera McKennan region, said.
The hands of another 500 people are needed to work inside the hospital when it is complete.
"In health care in particular, it's the touch of one person to another person in caring," she said. "Our buildings are no good without people," Hagen said.
But right now those essential hands are tough to find.
"There is just not anybody out there," Larry Haug, owner of Haug Steel, said.
"There's about one person looking for every three jobs," South Dakota Governor Dennis Daugaard said.
Daugaard has spent much of his near eight years in office addressing workforce issues.
"Beginning in 2012 and every year since then, labor has been a problem," he said.
Now the same labor issues are spreading across the country.
"There are more jobs than there are people looking, and that's never happened in the history of our nation," Daugaard said.
Those statistics are creating an unprecedented problem for South Dakota employers.
"In the Sioux Falls area, probably 400 to 500 jobs are open right now," Hagen said.
Avera Health is already one of the state's largest employers.
"It will take about an additional 200 employees when we are fully staffed," she said.
Recruiting has already begun to try and staff the new Avera on Louise campus that opens in 2020.
"There's always a fear that we're going to be short and that we won't have enough," Hagen said.
"You don't have a business without employees, you're done," Haug said.
Haug has been in the steel construction business for 40 years.
"It used to be that you can always find them," he said. "You'd hire, you'd fire, you do whatever you had to get the workforce that you wanted."
He said the current labor shortage has completely changed how he hires employees.
"A bad person four days a week is better than no person, period, that's just way the it is," he said.
With positions in many different industries left vacant for months, many employers say people just have to show up to work and they will have a job, even without experience or training.
"The skills that the people looking have, don't match up with the skills needed with the jobs that are available," Daugaard said.
It is why he said the next generation should be the focus of fixing the labor force problem.
"Trying to focus at the high school level and help young people understand better what opportunities are out there and give training at the high school level," Daugaard said.
He partnered with community leaders to create the Build Dakota Scholarship in 2015.
"We're going to give you a full-ride scholarship, but you have to choose from these jobs," Daugaard said. "We also require that after you graduate, you take a job in that field, because we have demand there, and you have to take that job in South Dakota."
The next step is up to employers.
"I think the key is retention," Hagen said. "Avera has put a lot of effort into retention, how we make people feel."
South Dakota businesses are now putting a big emphasis on benefits.
"I don't think you start anybody for less than 20 bucks an hour," Haug said.
Along with other incentives designed to attract and keep quality employees.
"The hourly wage types for positions -- fast food, retail -- are probably hit the hardest," Jim Protexter, Pierre Economic Development Cooperation Chief Operating Officer, said.
Pierre has dealt with the state's lowest unemployment rates for a number of years.
"It's kind of a good problem to have, but it's the number one problem," Protexter said. "Housing is a component that marries to that, you can't do one without the other. We're looking at housing as a solution to workforce."
"The next step is just looking for the place to live," Bethany Lennox said.
Lennox just moved to Pierre from Delaware to start a job with the Indian Health Care System.
"I graduated from the University of Rochester with Masters Degree in Biomedical Engineering."
She said housing and quality of life were key factors in her decision to move to the state.
"Knowing that it's a place where someone could come, settle down and live for a period of time really helped with the process," Lennox said.
Employers said it is essential for South Dakota to recruit more workers.
"I don't think right now there is enough, so the work that the chambers are doing, making that push across the country, showcasing all of the industries that there are jobs here," Hagen said.
"Recruiting has worked from some states, particularly from Puerto Rico," Daugaard said. "We've seen a lot of success because you don't have immigration issues."
"I think that every contractor in the country would love to send a bus down there," Haug said.
Immigration is another area some employers look to fill the labor force shortage.
"We've got to bring in a lot more from out of the country," Haug said. "That is a good thing for us. If we didn't most of the people wouldn't have this stuff done."
Daugaard said federal immigration laws make it difficult to bring a large number of immigrants to the state.
"South Dakota has been successful in using refugee stream," he said. "They'll often take some of the jobs that our own citizens would prefer not to take. They may be tougher jobs to take, but some of these refugees are willing to do that kind of work and work their way up and earn a living for their family here in South Dakota.
That is the one bright spot in South Dakota's labor situation; right now Daugaard said there are more people moving to the state than moving out.
"If they start a job here, develop a relationship with employer, we believe they'll stay here," he said.
"Workforce development has got to be everyone's focus, our state leaders as well as industry leaders," Hagen said. "We have to be focused on the growth we have today."
After years of work, Daugaard said he will pass on the job of building South Dakota's labor force to the state's new governor in January.
He said both candidates understand the state's labor issues require a marathon solution rather than a sprint.