Area family reacts to increase of traffic fatalities 20 years after losing son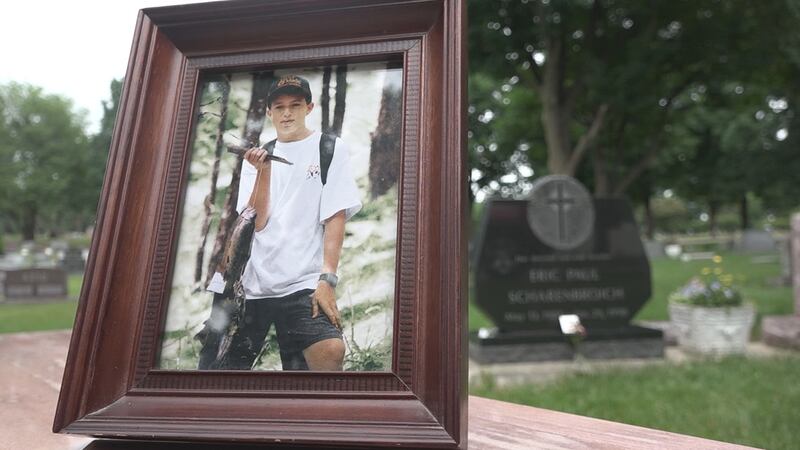 Published: Jun. 17, 2018 at 6:54 PM CDT
The sudden loss of a loved one is everyone's biggest fear, but it has become a reality this year for an increasing number of families as traffic fatalities rise. South Dakota is seeing a 60 percent increase in the number of traffic fatalities.
"My first reaction was, this can't be happening. This doesn't happen to us. They were doing nothing wrong. This didn't have to happen," Paul Scharenbroich said.
On January 29th 1998, 16-year-old Eric Scharenbroich was driving home with his girlfriend Angee when they were hit by a drunk driver.
"I got a call right away from Nancy. She was at the crash site and I got in the car and went down there. It was a terrible scene. Something I just try to put out of my mind," Paul said.
20 years later, that night is something the Scharenbroichs think about often.
"He's always going to be 16 to us. Where would have he been today. Who would have he married. What kind of family would have he had?," Paul said.
"We talk about how he probably would have pulled up with a station wagon full of kids. He was going to do big things," Nancy Scharenbroich said.
Today, more families are feeling that same loss as traffic deaths jump 60 percent from this time last year.
Drinking and driving, impaired driving of any sort, distracted driving, speeding, anything like that is a factor in almost all of our roadway fatalities," Director of South Dakota's office of Highway Safety, Lee Axdahl said.
That growing number of deaths is why law enforcement agencies are doing everything they can to help.
"Anything that we can do to reduce the incidences of speeding, of impaired driving, anything that we can do, we're trying," Axdahl said.
The Scharenbroich's are also doing their part, trying to educate drivers. They said they'll never stop fighting for Eric's cause.
"We love you. We miss you and we'll see him again," Paul and Nancy said.
The South Dakota Department of Highway Safety said the number of speed-related deaths were triple what they were this time last year. In nearly 60 percent of all fatal crashes, the victims were not wearing a seatbelt.