Avera Medical Minute AMcK: Stop cancer from stealing your hair with DigniCap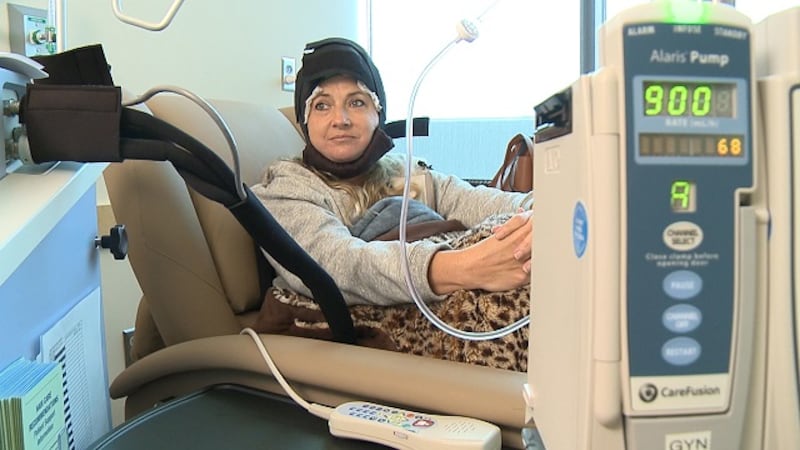 Published: Sep. 14, 2016 at 7:18 PM CDT
One out of every eight women will face a breast cancer battle in their lifetime. Typically that also means facing the traumatizing reality of hair loss from chemotherapy. Now, doctors at Avera have the tools to help save your hair; along with your life.
"I am in denial that I have breast cancer. I have a family history of stroke, heart conditions or diabetes, and when I found this lump it just didn't make sense to me." said Elva Connelly.
Elva's journey with breast cancer began in June, but today is her first day of chemotherapy. Unfortunately, treating breast cancer is all too common on the Avera Prairie Center's infusion wing but what makes Elva's treatment unique is that hat.
"It's just I wanted it to be a level of normalcy that you don't always get." said Connelly.
Unfortunately, the chemotherapy drugs that are used to treat breast cancer, also target hair cells. That's where the DigniCap comes in, it's a special device designed for one purpose: saving Elva's hair.
"We have the opportunity to preserve 50 to 70% of their hair throughout their oncology treatment." said Cystal Enstad, Infusion Center manager at the Avera Prairie Center.
Keeping her hair is a big deal for Elva, not just for keeping up appearances but she wants to look her best for her daughter's wedding this fall. She was even prepared to bring in a similar product from Minneapolis. Thankfully, she didn't have to.
"I met with Dr. Amy Krie on August first and before we got five words out of our mouth, she was like 'We are going to get the technology and you can be our first patient!' I was doing back-flips!" said Connelly.
The idea behind DigniCap is cooling the scalp. That way the chemo drugs aren't circulated in that area and affect the hair cells. It's quite a process that starts by getting your hair wet.
"Then they take the initial cap, which I called the Michael Phelps swimmer and put the swimmer cap on and get it nice and tight. Then they have the cosmonaut hat which it's really a very pliable hat and they're trying to get another level of tightness." said Connelly.
The last cap is the black helmet.
"What it really does is it makes sure that you have plenty of tension points through various parts of your scalp to make sure that the cold air is evenly distributed." said Connelly.
"The coolant goes straight through the cap providing the cooling agent we bring the to 37°F." said Enstad.
That tension and tightness have to be perfect to prevent hair-loss, but the cold factor can be pretty hard to handle for some patients.
"Because it is a bolt of lightning going through your body that first five or 10 minutes. It's the worst ice cream headache ever!" said Connelly.
A half hour before, then throughout the chemo treatment and an additional 3 hours after for every treatment: this cool cap stays on. It's not the easiest undertaking but for many women like Elva it's an extremely important part of their cancer journey. Losing your hair is a daily reminder of it, to you and to others. Now with the DigniCap, your hair is one thing cancer won't be able to take.
"This allows our patients to continue to have that privacy and provide them dignity while they are going through their treatment and it's just an additional option into the treatment offerings that we have." said Enstad.
"I just want women to understand that there are choices left and right within our community that we haven't ever had." said Connelly.
To help make the DigniCap process more bearable,patients can also utilize integrative medicine services like aromatherapy or music therapy to help soothe their nerves and achieve their hair preservation goal. For more information just call 877-AT-AVERA.