Brookings science teacher goes to Space Camp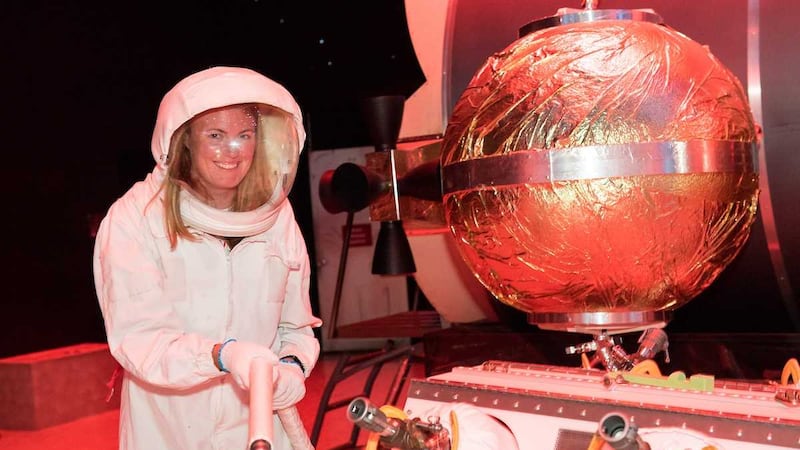 Published: Jul. 24, 2018 at 9:44 PM CDT
A high school teacher in Brookings got the experience of a lifetime spending a week at Space Camp in Huntsville, Alabama.
Every year, Honeywell sends more than 200 math and science teachers all expenses paid as part of the Honeywell Educators at Space Academy. The idea is to inspire those teachers, when they get back to their classroom, to promote science, technology, engineering and math in the United States and around the world.
Marcie Welsh teaches Science at Brookings High School. In June, she spent a week at Space Camp.
"It was incredible. I don't even know if that accurately expresses how amazing that week was. The teachers there were so passionate, so engaging and it really re-inspired me for teaching, educating and for inspiring students to be interested in STEM activities as well as Space," Marcie Welsh said.
Normally, Space Camp is for kids. But she said the idea behind it, for teachers, is two fold.
"One was to help teachers be inspired, more effective educators, getting them engaged. The bigger theme is getting them interested in STEM," she said. "A teacher at our middle school went several years ago said I have to apply. I applied, got accepted. I didn't really fully understand how big of a deal it was to be accepted until I got there. There was a gentleman from Kenya who applied for five years and got accepted. To get to go with this experience, completely expense paid, and meet teachers from all over the world not just this country. It was pretty remarkable experience. Any teacher I say you have to go next year -- you have to apply!"
Teachers spend 45 hours of classroom, lab and training time over the five-day experience. They work with robotics, simulated missions and communication, to name a few.
"It was a lot of that problem solving, team work, communication, activities to work together to figure out whatever problem was in front of us," Welsh said.
She said it wasn't just the curriculum that was so fascinating, that week, but other teachers she met from all over the world.
"It's really inspiring for teachers to go and make those connections. Our team of 15 made this Facebook group, share curriculum ideas to share through the next year and future years."