Controversy over IM 22 continues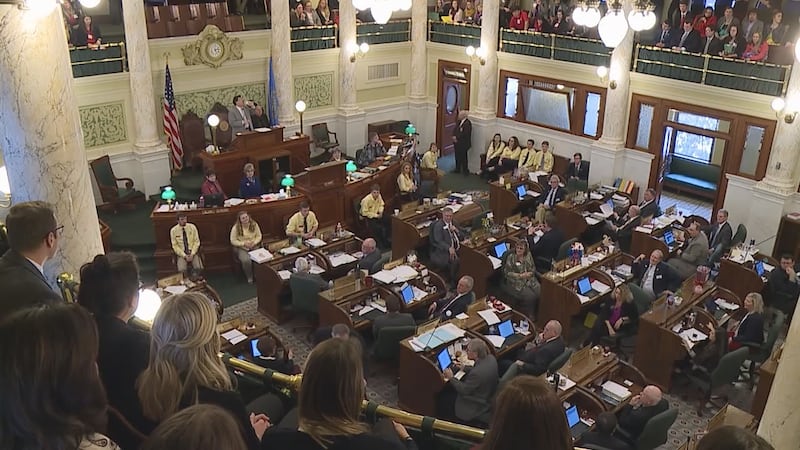 Published: Feb. 15, 2017 at 10:58 PM CST
After a repeal of Initiated Measure 22 sailed through the state legislature and was signed by the Governor, the promised 'replacement' pieces of the voter-approved law have been slow to advance at the South Dakota State Capitol.
That's in part, due to the fact that everyone's a little divided on what ideas should be put back on the books.
Just this week, a bill to cap the amount of money in gifts lawmakers can receive from lobbyists passed the House and made its way toward the Senate, all while a picture of Senate members seeming to mock IM 22 gained traction on social media.
When lawmakers voted to repeal IM 22, members of Represent South Dakota packed the Senate gallery to voice their disapproval.
Organizer Doug Kronaizl says legislators currently have two strikes against them.
"One, repealing the whole thing when they didn't have to, and two, these replacement provisions allow them…A lot of things are missed and a lot of the provisions fall short of the extent that IM 22 went," Kronaizl explained.
This week HB 1073, a bill that would place a $100 cap on the amount of gifts legislators can receive from lobbyists annually passed the House, but it has exceptions.
"You can have an event and we're going to be able to come to your event as long as you present something of educational value or is useful in us to create policy," Representative Don Haggar said.
The proposed legislation also doesn't include food.
"Every exception that is tacked onto that is just another crack, another loophole that can more or less be exploited to kind of undermine the true intent of what we had with IM 22 which was to stop this undue influence," Kronaizl stated.
With tensions already high, Senators posing for a picture wearing fake gold watches that were gifts from lobbyists blew up on social media and threw fuel on the fire of this ongoing controversy.
"IM 22 supports falsely claimed that South Dakota lobbyists distributed stacks of cash and gold watches to us to secure our vote. Those are false claims and were very insulting to South Dakota voters, legislators and lobbyists," Republican Senator Deb Peters stated.
"I just thought it was extremely insensitive. We all know what it was aimed at," Democratic Senator Troy Heinert said.
"It was just more so the aspect that given the amount of public outrage over the repeal effort, it was just tone deaf, a tasteless joke, totally unnecessary and uncalled for," Kronaizl explained.
Senator Deb Peters from Hartford was one of the four lawmakers who posed for the picture.
She says she wishes IM22 supporters would turn their focus toward the fiscal situation and help fund education.
Both Senator Peters and Representative Haggar have never seen a lawmaker receive a gift from a lobbyist that exceeded a value of more than $100.
Representative Don Haggar says HB 1073 isn't the only bill going through the legislature that protects the spirit of what IM 22 was trying to do.
Lawmakers are still debating several bills that contain at least a piece of the initiated measure.