PHOTOS: Four new statues unveiled along Trail of Governors in Pierre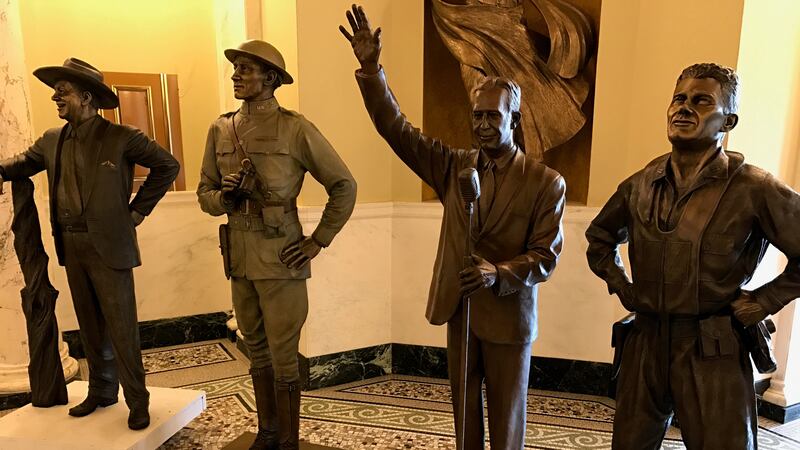 Published: Jun. 16, 2017 at 3:37 PM CDT
The statues of four more South Dakota governors were unveiled in Pierre Friday. The bronze sculptures of governors Tom Berry, Leslie Jensen, Sigurd Anderson and Joe Foss are being added to the Trail of Governors in the capital city.
Members of each governor's family were joined by the artists, donors, and Gov. Dennis Daugaard to unveil the statues in a ceremony in the Capitol Rotunda.
"Each new statue is a wonderful combination of South Dakota art and history," Daugaard said. "It's always fun to see how the artists have portrayed the person. There's a great story told in the details of every one."
Various South Dakota artists designed and created the statues, drawing inspiration from historical research and personal conversations with families of the former governors.
The statues will be placed along the designated trail that runs from downtown Pierre to the State Capitol. The four new statues will join 15 others, bringing the total completed so far to 19 of the 30 former governors.
Until they are placed in their permanent locations later this summer, the public can see the statues of Foss and Jensen at the S.D. National Guard Museum and the statues of Berry and Anderson at the Cultural Heritage Center.
The statue of Gov. Tom Berry, the state's 14th governor from 1933 to 1937, was created by John Lopez of Lemmon, and will be placed at the corner of Dakota Avenue and Pierre Street.
James Van Nuys of Rapid City created the statue of Gov. Leslie Jensen, the state's 15th governor from 1937 to 1939, which will be placed on Capitol Avenue in front of the Soldiers & Sailors Building.
The statue of the state's 19th governor from 1951 to 1955 - Gov. Sigurd Anderson - was created by Spearfish artist James Michael Maher and will be placed in front of the state office building on Capitol Avenue that bears his name.
The statue of Gov. Joe Foss, the state's 20th governor from 1955 to 1959, was created by Lee Leuning of Sioux Falls and Sherry Treeby of Aberdeen and will be placed on Capitol Avenue in front of his namesake state office building.
The public art project by the Trail of Governors Foundation is privately funded by individual and business donors.