Girls Breaker event helps spark an interest in Technology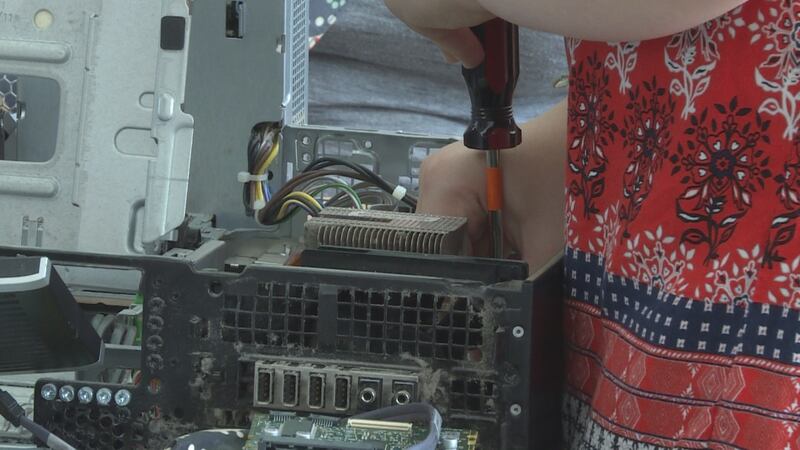 Published: Jul. 29, 2017 at 9:12 PM CDT
Across the county, many groups are working to get more women involved in science and technology.
This weekend a Sioux Falls dad came up with a creative event to help girls get hands-on experience with how technology works.
"We're inviting girls to come out, learn about electronics and computers by taking them apart," event creator Will Bushee said.
This first ever Girls Breaker day is designed to give young girls an opportunity most do not have at home.
"I just like to see kids explore technology," Bushee said. "So often it's don't touch that, don't break that, don't take that apart and I'm quite the opposite, I want to see things taken apart, I want to take fevering apart, my kids have been very active on disassembling things."
"I just love taking apart hardware, I've taken apart a couple of mother boards and recently just took apart a keyboard," Sioux Falls teen Celia Nevin said.
Girls of all ages attending Saturday's event had a blast getting a look inside their favorite technology.
"It was really fun to see the components of a keyboard and it was just easy to see how everything works once I took it apart," Nevin said.
"This all started because my daughter, she's 14, her favorite tablet broke last year and she asked if we could fix it. I said well I don't think you can fix it but you can take it apart if you want," Bushee said.
While this was a fun hands on event, its aim is much deeper.
"It's great to have girls involved in anything to do with technology, especially in the stem field," Bushee said.
"Technology is a very male-influenced field," Nevin said. "While women have been growing in technology, it still isn't equal, and I think it's great for girls, especially young girls, to learn that yes I can do this."
Journey Technology Solutions hosted this first time event. All of the computers and other tech gear was provided by Millennial Recycling. Karl's TV also donated several appliances that the girls were able to take apart and explore.