UPDATE: Boys found Yankton woman's body in Michigan river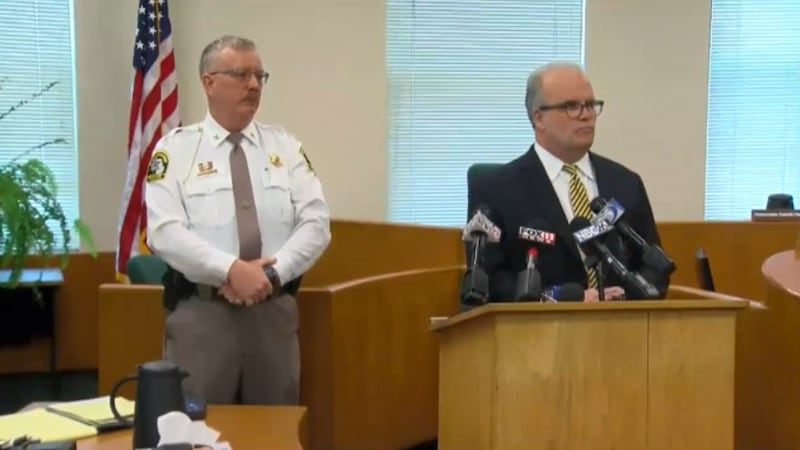 Published: Mar. 19, 2019 at 9:17 AM CDT
UPDATE:
A man is being held on a $1 million cash bond in connection to the murder of a South Dakota woman whose dismembered body was found in a tributary of the Menominee River.
Officials in Menominee, Michigan, held a news conference Wednesday to discuss the investigation into the death and dismemberment of Tamara LaFramboise.
Stephen Robert Falkenberg, 45, is charged with second-degree murder in South Dakota. Investigators believe the killing happened in South Dakota, so that's where the prosecution on the murder charge will take place. Falkenberg is from Menominee and graduated high school there.
On Saturday, March 16, two boys were walking their dog in the area of County Road 557 in Menominee Township when they made a grisly discovery. They looked over the side of a bridge and saw a body in the Little River. It was missing its feet, hands, and head.
Police and deputies were called to the scene. One Menominee Police officer remembered that a missing persons report had been distributed from South Dakota. That proved to be significant in helping investigators identify the body as Tamara LaFramboise.
LaFramboise was reported missing in Yankton County, South Dakota, on March 5. A list of her tattoos was obtained and the tattoos were consistent with the body that was pulled from the water in Michigan.
The search continues for the missing body parts and other evidence. A dive team from Marinette County has combed the river. Menominee County's drone unit has taken aerial footage of the area. Search warrants have been executed.
On Tuesday, the Fond du Lac County Medical Examiner's Office conducted an autopsy on the body. Results are pending.
ORIGINAL STORY:
Court documents have revealed new details about a Yankton woman found dead in Michigan and her relationship to the man charged in her death.
The Menominee County, Mich. Sheriff's Office found what they believe is the body of Tamara LaFromboise in a river on March 16.
LaFromboise was reported missing in Yankton County back on March 5.
Forty-five-year-old Stephen Robert Falkenberg is charged with second degree murder in connection with LaFromboise.
According to court documents, Falkenberg and LaFromboise were in an on-again, off again relationship, and that the relationship was very turbulent.
Documents go on to say Falkenberg told police that he last saw LaFromboise in the morning on Friday, March 1st. He said he had coffee with LaFromboise at her apartment, and she told him to leave.
LaFromboise was last seen leaving the Yankton Walmart on March 1st. Falkenberg admitted to picking her up from work earlier that morning.
Investigators interviewed a friend of Falkenberg's fiance, who said the fiance had to stay at Falkenberg's house and babysit his dogs while he made a trip back to Michigan.
Police in Yankton forwarded a missing person flier of LaFromboise to the Menominee, Michigan Police Department.
Police in Michigan advised they were investigating a body that was found in a creek outside of Menominee, according to court documents.
Documents say that the head, hands, and feet had been removed from the body, were not with the body, and have not been located at this time. However, several tattoos were visible.
A list of LaFromboise's tattoos were obtained and the tattoos were consistent with the body that was pulled from the water in Michigan.
The body was found in a rural area 1.4 miles from a home owned by Falkenberg's brother. Court documents reveal Falkenberg had visited that home since March 1st.
It was later revealed that Falkenberg had been in contact with a woman from Sioux Falls and that he may have been at her residence.
Documents say Falkenberg admitted to the woman that he got into an altercation with LaFromboise at her home. He admitted that he pushed LaFromboise against the wall and that she was dead, but didn't go into any detail about how she died.
According to court documents, the woman says Falkenberg told her he put LaFromboise's body near their family farm in Michigan and told the woman he dismembered LaFromboise because he did not want her to be identified.
An earlier press release from the Yankton County Sheriff's Office said Falkenberg was arrested in Sioux Falls by the Minnehaha County Fugitive Task Force Monday afternoon.
He is being held at the Yankton County Jail.