Parents pushing for autism treatment coverage changes in Pierre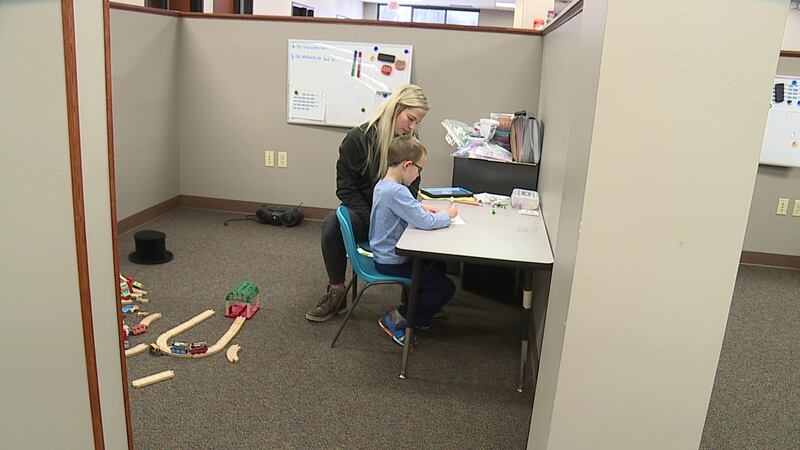 Published: Jan. 31, 2019 at 7:00 PM CST
Imagine finding out you have cancer, only to learn that insurance does not cover chemotherapy.
That is what some parents say it felt like when they learned their insurance would no longer cover some autism treatment for their children.
Now they are taking their frustrations to the State Capitol, pushing for change.
Each week, Jake Smith spends his days at Behavior Care Specialists in Sioux Falls. He is receiving applied behavioral analysis therapy.
Techs help him with things many of us take for granted, like eating. His mom Heidi Smith said it has changed Jake's life.
"Without ABA he wouldn't have the success he has now," Smith said. "It's vital for these kids, it's essential for them to become successful later in life."
"Shock and denial."
That was Lindsey Janklow's reaction after receiving a letter from Sanford Health last week. It said her son RJ's ABA therapy would no longer be covered by their health plan.
She posted a video on Facebook last week after getting the news.
"Right after I found out that we were getting cut off with services, I just kind of shared our story," Janklow said.
It has been viewed more than 42,000 times.
"Now that he's not receiving this therapy, I'm nervous he's going to regress," Janklow said.
KSFY News asked Sanford Health President Kirk Zimmer what changed.
"Unfortunately we made a mistake and covered some benefits that shouldn't have been paid, and we regret that confusion, because it's caused these questions to be asked," he said.
Zimmer said the therapy is not covered by Sanford's individual or small group insurance plans.
"I think most of the states now -- North Dakota, South Dakota, Iowa, Minnesota -- have all responded to legislative mandates that those be covered in the last few years," he said.
But South Dakota law does not mandate the coverage.
Smith and Janklow want to change that. They are working with state lawmakers to introduce two bills that would mandate ABA therapy coverage.
"I think if we can keep up the momentum hopefully this session we can see a difference, and we can make a change," Smith said.
Heidi's husband works out of state just to get insurance that covers Jake's therapy.
If lawmakers change the insurance mandate, he could likely return to work in South Dakota.
KSFY News will stay up-to-date on the progress of those bills in Pierre.