Project Warm-up volunteers make thousands of blankets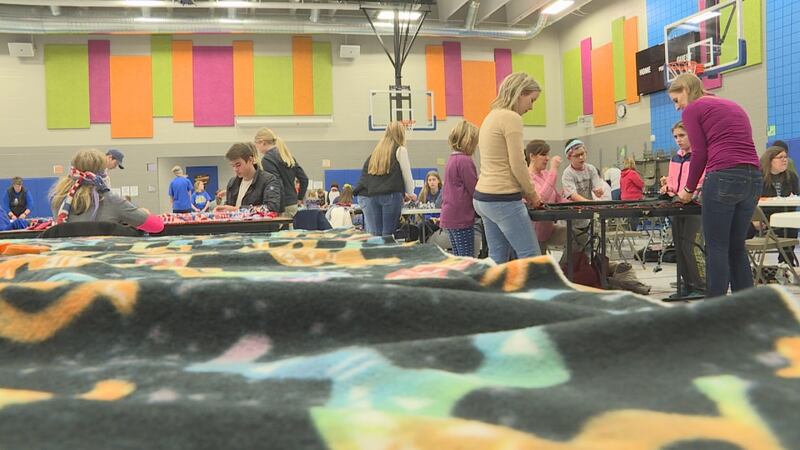 Published: Dec. 9, 2017 at 7:37 PM CST
What started as a mother-daughter service project 12 years ago has now helped provide comfort and warmth to more than 18,000 kids.
Roughly one hundred volunteers joined together in Sioux Falls Saturday to continue the mission of Project Warm-up.
"When we started this back in 2006, we had no idea what this would blossom into and how many kids would be impacted by this many volunteers," Project Warm-up Founder Tracy Vik said.
From student council members to businesses and entire basketball teams, Project Warm-up volunteers came together to help make thousands of blankets for kids in need.
"It makes me feel good to give a blanket to somebody because I know I'm helping comfort them," Volunteer Ruby Bearden said.
"A large percentage of the kids who get these blankets need the physical warmth it provides, while others who get these blankets need the emotional warmth and comfort it provides," Vik said.
The blankets are distributed to kids throughout the year, but this Monday thousands of blankets will be delivered to Sioux Falls Schools.
"We actually have a list from every school in Sioux Falls and how many blankets they need to give out to their students," Vik said. "We have so many good and generous people in this community, we are such a giving community, whether it's around Christmas time or throughout the entire year."
Project Warm-up also sends blankets to reservations throughout South Dakota as well as a small village in Alaska.
You can drop off blankets, fleece fabric or monetary donations at Sonya Sotomayor elementary school in Sioux Falls anytime of the year.