SDSU astronomy professor cancels class for total solar eclipse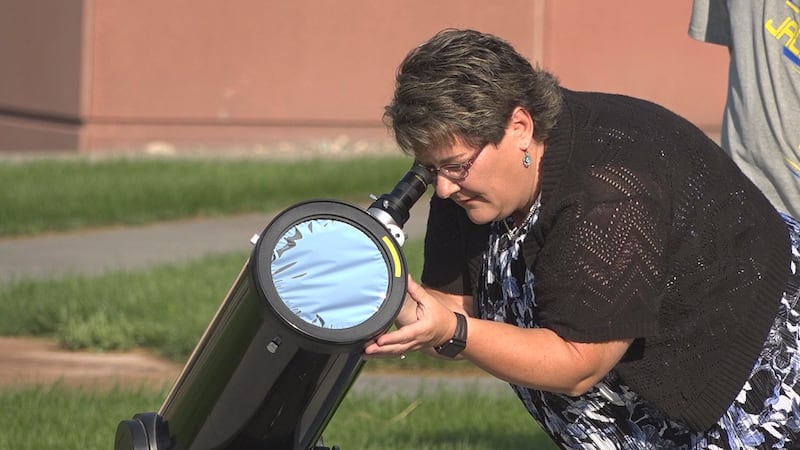 Published: Aug. 18, 2017 at 4:15 PM CDT
Monday is the first day of classes at SDSU. But one professor will be missing from her classroom – and she has a pretty good excuse.
"I couldn't believe when I looked at the calendar," said SDSU Astronomy Professor Judy Vondruska.
Monday, August 21 – classes start at SDSU.
"I mean, we've known obviously for years this was going to happen," said Vondruska.
Also Monday, August 21 – the first total solar eclipse in 99 years to cross the continental US from coast to coast.
"And so I'm excited about it and then I check my calendar -- it's the first day of class at SDSU," said Vondruska.
So what's an astronomy professor to do?
"Luckily my department head and my dean were gracious enough to allow me to go down to Nebraska where I can do some data collection and photography of the eclipse," said Vondruska.
But don't think Vondruska's students get a free pass on Monday since their professor is gone. They still have a homework assignment.
"I want them to view the eclipse," said Vondruska.
And while most students are focusing on moving into their dorms and preparing for class ,the Society of Physics Students are taking advantage of this organize chaos to spread the word about the eclipse and hand out solar eclipse glasses.
"We're physics majors so we're science nerds. It's really exciting to see something like this happen right outside our front door," said Kyle Schroeder.
The Society of Physics Students will be handing out solar eclipse glasses again on Monday at 11:30 near the west side of the student union entrance.