Sioux Falls homeowners finding KKK recruitment materials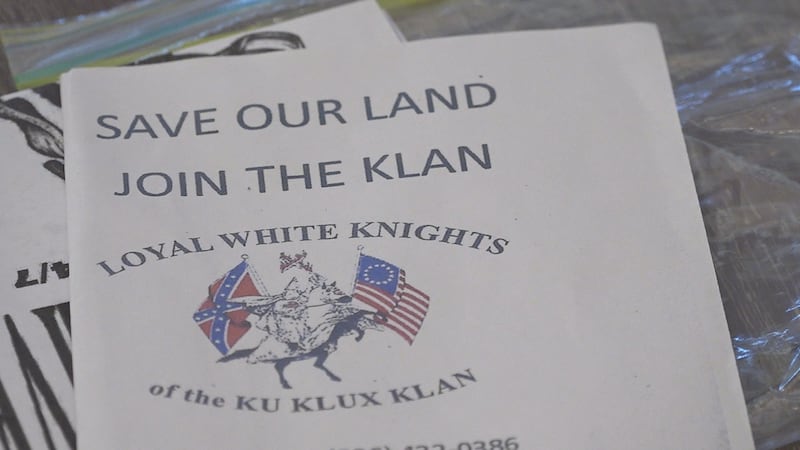 Published: Aug. 14, 2018 at 10:13 PM CDT
A quick search of several area Facebook groups show an outpouring of people from all across the city have been finding KKK recruitment materials.
Kristen Peterson hasn't been one of those posters, but said she found a packet of recruitment materials on an evening walk Monday night near Tomar Park.
"I was about a block away from my house and noticed this Ziploc baggie with candy in it on the sidewalk and I didn't think much of it, so I just kept walking," Peterson said.
But her curiosity got the best of her and she turned around and went back to see what was in the bag.
"I found propaganda and information encouraging people to join the KKK, I was just kind of blown away," Peterson said. "It was the last thing I expected to find in that Ziplock baggie."
She immediately called her neighbor Jean Magnuson.
"We just kind of sat at my breakfast bar for awhile ... we didn't speak," Magnuson said.
After awhile, Peterson said they called police and the person they spoke with said several other people had also called about KKK materials.
When Peterson went home, she talked to her seven-year-old daughter, who she said, picked up on what was going on right away.
"She said, 'Mom, I think what I'm gonna do from now on, is if I don't know someone or don't trust them, I'm not going to let them know I know Spanish.' It saddened me that my daughter got scared," Peterson said.
And not just scared for herself but scared for her classmates and teachers too. Magnuson has been a school teacher for the last 30-plus years.
"We have to be cognizant about what children are living now because they're in more fear," Magnuson said. "And these groups feel emboldened right now to come out of the shadows and into the neighborhoods and that is just not OK with me"
Peterson and Magnuson are hoping something positive can come out of this.
"I see Sioux Falls as a wonderful, loving community full of beautiful cultures and different races and diversity and my hope is to really spread that message of love and inclusion and hope," Peterson said.
Christy Nicolaisen, Executive Director of the Sioux Falls Multi-Cultural Center said, this isn't the first time she's seen KKK propaganda -- but, the way this was packaged is new.
"I have heard of small towns getting papered -- like a paper party --with KKK so this doesn't surprise me," Nicolaisen said. "It saddens me greatly."
Nicolaisen said the Multi-Cultural Center does its best to promote diversity and inclusion across the city, but that things have really changed the last few years.
"Even two years ago, it wasn't so obvious and so blatant, but now people feel it's OK to say, 'I hate this group or this group or this group.'" Nicolaisen said. "It's not. We're all humans, we're all here and we should respect each other or honor each other and that's how we have a better world."
Nicolaisen said a great way to get to know others is always over food.
She also said the Multi-Cultural Center will host its second multi-faith candlelight service in Falls Park on Sept. 16. They had one a few weeks ago with Christian, Jewish, Muslim, Hindu, Buddhist and Native American spirituality all represented. About 150 people attended.
Sioux Falls Police said Monday morning they had gotten a few calls about KKK fliers, but do not have any suspects at this time.