Sioux Steel's move creates major opportunity for more downtown Sioux Falls development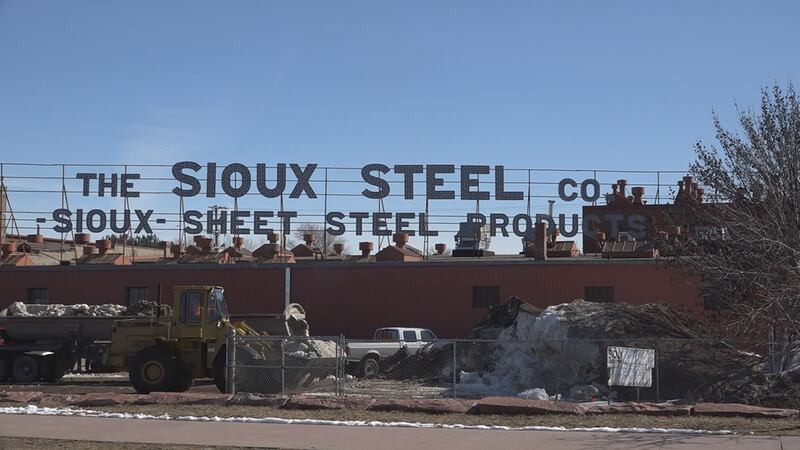 Published: Mar. 13, 2018 at 7:03 PM CDT
Sioux Steel Manufacturing Company's announcement that it will move even further uptown in Sioux Falls creates a unique opportunity in a part of downtown that is already undergoing major redevelopment.
The location of Sioux Steel, just off Phillips Avenue and 6th Street, is smack in the heart of several other major uptown redevelopment projects. The Levitt at the Falls outdoor concert pavilion in Falls Park is slated to break ground this spring and open in the summer of 2019. Sioux Steel is just behind it -- and to the east of Sioux Steel -- the BNSF railyard, which the city is in the process of selecting a developer for. To the north -- across from the Levitt shell -- a more than $40 million dollar development Lloyd Companies is working on. To the south -- the downtown parking ramp project.
"I look at that site as really being a driver of downtown development for the next 10 years," said Joe Batcheller, President of Downtown Sioux Falls, Inc.
"I truly believe this is going to be like a 25 -acre juggernaut for the city of Sioux Falls," Mayor Mike Huether said.
Sioux Steel's move creates an opportunity downtown the city hasn't had with other major projects -- because there are so many going on all at once.
"The Railyard redevelopment and the Levitt pavilion and phase one and two and three of the River Greenway and on and on and on," Huether said. "Can you tell I'm excited? That's because, this land is so valuable in the heart of our downtown now -- so why wouldn't we take our time to do it right?"
Huether said the opportunity is special because now all of the projects can be coordinated and planned together.
At the heart of it all: Levitt at the Falls.
"It's amazing, I kind of want to pinch myself, I can't even believe it's happening," Jennifer Kirby, Board Chair for Friends of Levitt Shell said. "Of course, we don't know what will happen there, but it sounds like everyone's putting a lot of thought and effort into the best use of that land."
And the space Sioux Steel vacates isn't the only opportunity its move creates. The manufacturer plans to move even further uptown.
"It creates an anchor at the north end of Phillips Ave," Batcheller said. "And I can really see that creating a strong pedestrian corridor up and down Phillips Ave. with multiple destinations along the way."
"I think there's just going to be a vibrant hub of activity with more people living, working, playing, recreating downtown .... especially that area of downtown," Kirby said.
City leaders said they can envision dozens of different business opportunities -- more restaurants, bars, shops, offices, apartments and possibly even another hotel. Plus, Batcheller and Huether both said that once the ground space runs out -- skyscrapers -- could also be in downtown Sioux Falls' near future.
No one from Sioux Steel was available for an interview today, but they passed along this statement from President and CEO Scott Rysdon:
"On our 100th anniversary, we celebrate our history and look toward the future. It is time for Sioux Steel to put the land it has called home to its highest and best community use and enjoyment. Development will be phased over time and it is an exciting opportunity to be a part of planning and developing the property in a way that will enhance public resources to the benefit of the community as a whole."