Suicide prevention on your smartphone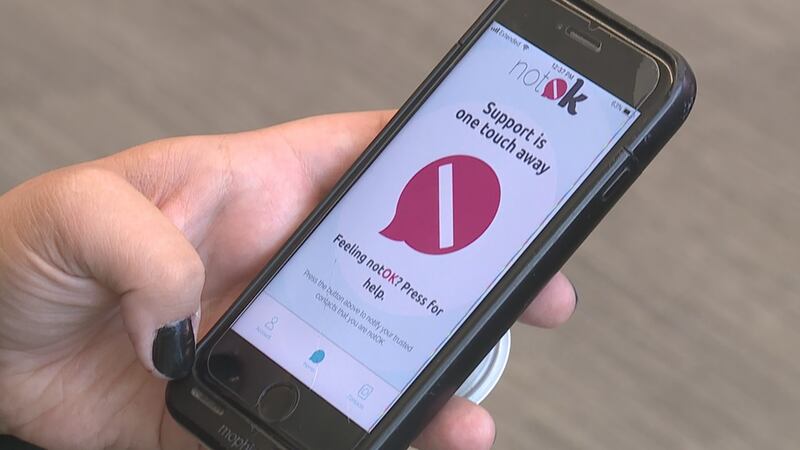 Published: Jul. 31, 2018 at 5:35 PM CDT
Suicide rates are hitting an all-time high in South Dakota. Numbers from last month show the state saw nearly a 45 percent increase in suicides. Minnesota saw a 40 percent increase and Iowa saw a 36 percent increase.
Everywhere you look you'll see people on their phones. It provides us with easy access to not only information, but also help when we need it. That's why in this growing social media age, apps like 'notOk' were designed so that support is just one touch away.
"There's hope for recovery. There's hope to get that help that they need," Helpline Suicide Prevention Director, Sheri Nelson said.
A scary uptick as the numbers of attempted and completed suicides continue to rise.
"It's really a disease of loneliness and really builds a barrier between the person who is suffering with it and the people closest to them that want to help," Avera EAP Trainer and Consultant, Tim Heerts said.
Apps like 'notOK' are looking to shine a light on those in the darkest places. It's essentially a digital panic button. With just one tap you can alert your trusted contacts that you're not ok. It asks them to call, text, or find you and tells them that you need to talk.
"When you can just push a button and send out a notice to somebody that 'hey I need some help right now.' That can be a link in those relationships and that communication and just make that much easier. It can be a very good thing for some people," Heerts said.
The Helpline Center has been making its way into the digital world for a while now.
"Knowing that this generation is using a lot of that technology, it's getting to that point that we are meeting their needs where they're at," Nelson said.
Many say apps like 'notOK' are just the beginning.
"I see this app as being one piece of the puzzle in helping people and getting that awareness out there. Letting people know that 'hey I need to connect with someone and I need someone to help me with this' because it's not ok to do nothing," Nelson said.
Many people said a crisis for a person can happen at any time, anywhere. So apps and the ability to text in help is essential in getting help as quickly as possible. However, if it is a true emergency you should always call 911. The Helpline Center said they see many people reaching out to them through their newer texting service. You can get their help by texting "Icare" to 898211.