The importance of spreading awareness about autism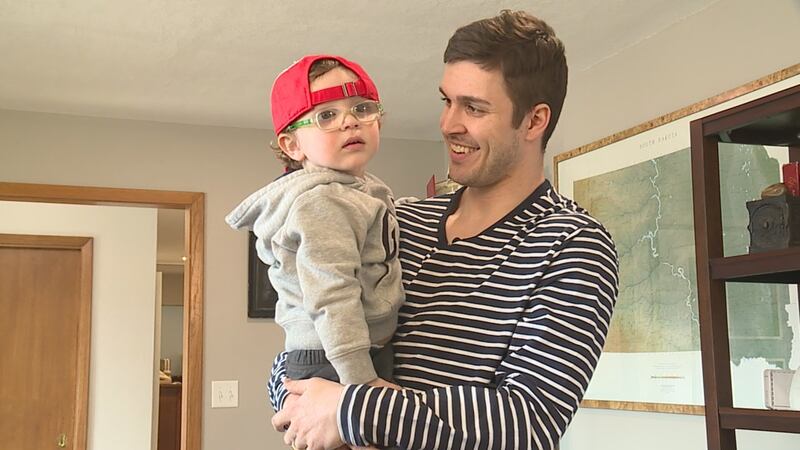 Published: Apr. 1, 2019 at 6:48 PM CDT
It's been less than two months since lawmakers in Pierre
that would mandate South Dakota health insurers cover autism and spectrum disorders. Families that have kids with autism hope to keep the conversation going and help more people understand what autism looks like.
R.J. is 2 1/2 years old. He was diagnosed with autism at about 18 months.
"To start off with, I didn't even know much about autism at all, so it was a lot of reading, a lot of watching videos and just kind of trying to research. A lot of unknowns basically," Matt Brazendale said, who is R.J.'s dad.
But now, Matt wants to use the knowledge he's learned to help people understand autism and know that there's a broad spectrum of diagnosis.
"Just because they don't make eye contact with you doesn't mean they don't want to talk to you or be spoken to or interact. They're still seeking that acceptance and being comfortable, just like everyone else is I guess," he said. "I think that's another misconception as well. People think there's a look of autism."
And that's not always the case. R.J. loves to play with other kids but can have bigger meltdowns than others because he processes emotions differently.
"When it's a no or we try to pick him up, it's a meltdown and banging head and throwing and screaming," Brazendale said. "Uncomfortable feeling at first because you know, you think everyone's kind of looking at you kind of funny."
Mayor Paul TenHaken of Sioux Falls has friends and family going through this exact thing. That's why he signed a proclamation to declare Autism Awareness Day on Tuesday.
"So I want them to know I see them. I care about them, and this city wants to celebrate them and realize we embrace all people in this city," Mayor TenHaken said.
Mayors have signed this proclamation in the past but Mayor TenHaken said it wasn't really brought to light.
"As easy as it is for him to just sign it and proclaim it that day, it has a larger effect than that," Brazendale said.
"We have to continue to recognize it, and we have to continue to look at how we can support parents and families that have autistic children, and if that means another bill that comes forward again in Pierre that they have to debate, I'll be watching that very closely," Mayor TenHaken said.
Tuesday has been declared World Autism Awareness day in Sioux Falls. People are encouraged to wear blue to spread that awareness. April is also awareness month for the disorder.
There is an event on Augustana University's campus on April 30th from 6:00 PM to 8:00 PM for autism awareness month. It will be at the Froiland Science Complex on campus in Sioux Falls. You can bring the kids to enjoy fun, games and food. Representative Ryan Cwach will also be there to talk about next year's legislative session.