Thune hosts cybersecurity roundtable at Dakota State University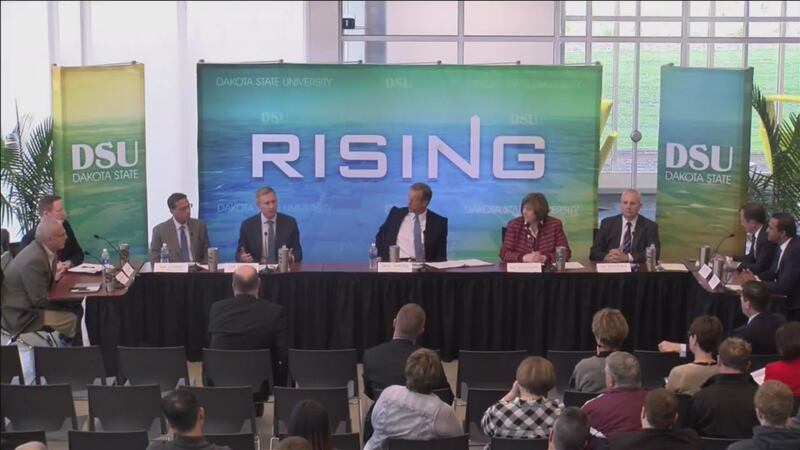 Published: Oct. 13, 2017 at 5:40 PM CDT
In recognition of national cybersecurity awareness month, South Dakota senator John Thune hosted a round table discussion on the topic at Dakota state University Friday.
Many students and others in the Madison community came to hear about the latest trends in cybersecurity from some of the nation's leading experts in technology.
"A lot of people traveled far and wide to be here today," Senator Thune said.
From Google to Visa, General Motors and Amazon, Friday's cybersecurity panel included key industry experts from all over the nation.
"They're a really good way of bringing together experts to talk about the issues and discuss the ways that industry and government can cooperate, we find them very useful and we're excited to be a part of it," Mark Ryland, the Chief Architect for Amazon Web Services said.
As chairman of the Senate Commerce, Science and Transportation Committee, Senator Thune hosted this event specifically for Dakota State University.
"It is going to be an important part of everybody's future," Thune said. "As we look at the future, we've got to be looking with an eye toward what can we be doing to help prepare professionals that can help be a part of this field and help prevent these types of events in the future."
"We've all read about the Equifax breach," Chris Murphy, Lead Counsel & Chief Privacy Officer for General Motors said during the discussion.
The group of experts discussed some of the biggest topics going on right now in the field of cybersecurity.
"It's good to actually bring that activity to Madison, onto campus, so that our students can experience firsthand and see people talking about the issues they're learning about in classes and actually have the opportunity to ask questions," Dakota State University President Dr. José Marie Griffiths said.
"These hacks of late make this even more important that we continue to develop professionals that can work in this field and have the expertise to work in this field in the future," Thune said.
"Colleges like DSU with their focus on cybersecurity are providing us a great pipeline of talent and we very much need that in the industry," Ryland with Amazon said.
These experts say right now there are 16 billion wireless devises in the world, but within the next 10 years, that number is expected to grow to 50 billion. Several members of the panel referenced that statistic as one of many reasons why the future of cybersecurity is so important.
The round table was held at DSU's new Beacom Institute of Technology, which will soon be joined by the addition of a new $60 million mad-labs cybersecurity facility as well, making the Madison University one of the leading cybersecurity educators in the nation.