Why does the railroad overpass in Pierre keep getting hit by vehicles?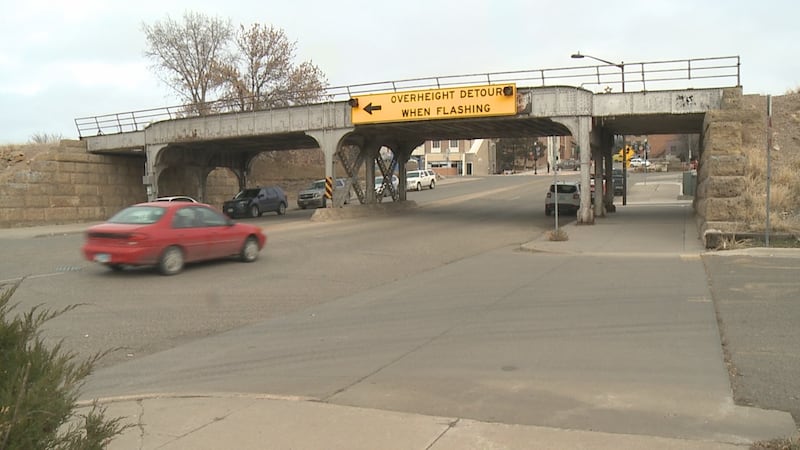 Published: Dec. 7, 2018 at 12:24 PM CST
In the last 10 years, more than 100 vehicles have met a similar fate with a railroad overpass in Pierre. The city and South Dakota Department of Transportation have taken multiple steps in the past several years to prevent these accidents from happening.
There are many warnings before vehicles even get to the railroad overpass. It sits over Pierre Street, which is also U.S. Highway 14 for cars. Trucks have a different route.
Dean Van Dewiele is the South Dakota Department of Transportation engineer for the Pierre area. He said Pierre Street, which turns into Euclid Avenue is set to be reconstructed in 2022.
"It's an exciting project that we have coming," Van Dewiele said.
Officials looked at what they could do to the bridge to prevent vehicles from hitting it since this construction project is happening in that area, like lowering the road.
"To lower it actually enhances an already bad situation, and then you also have a bunch of utilities underneath the ground," he said.
Raising the bridge would cost at least $1.3 million.
"It wouldn't be a good use of taxpayer money to actually raise it, especially when you consider it's a route trucks shouldn't be on," Van Dewiele said.
There are several signs directing large vehicles to use a bypass to avoid getting stuck under the bridge.
"They're relying too much on technology versus actually being visually keen to where they're at," Captain Bryan Walz said, who is with the Pierre Police Department.
He said most drivers tell officers they were following their GPS.
"From time to time, they'll tell us that they did but didn't know how to turn around," Captain Walz said.
This is not a new story though. The front page of the Pierre Capital Journal on August 1, 1968 had a picture of a truck stuck. But Captain Walz said they started seeing an increase in crashes within the past 15 years when more people started relying on technology, instead of paper maps.
"People are just not paying attention to their surroundings, or they're just totally disregarding those traffic control devices that we've put into place," Walz said.
Sensors were installed in 2010 to detect if a vehicle is too tall before passing under the bridge. Then, it gives a warning to drivers.
"It's disheartening to know that people aren't driving and paying attention," he said.
But they are the ones who usually get the short end of the stick.
"The bridge is never damaged," Van Dewiele said.
It was built in 1907 out of steel. According to a spokesperson with the Rapid City, Pierre, and Eastern Railroad, it's overbuilt for the diesel electric locomotives used now. It was originally built for steam cars, which put more stress on a bridge.
"It's the sturdiest bridge in South Dakota," Captain Walz said. "Lots of disabling damage to the tractors and trailers and campers, but the bridge itself is just solid. They don't make them like that any more."
For now, the score will keep tallying in the bridge's favor. Two trains travel on the bridge daily. One goes westbound and the other goes eastbound.
If a driver hits the bridge, Captain Walz said the driver is usually cited with a ticket between $88 and $125. He said they will continue to look at the bridge but don't have any plans right now to reconstruct it.