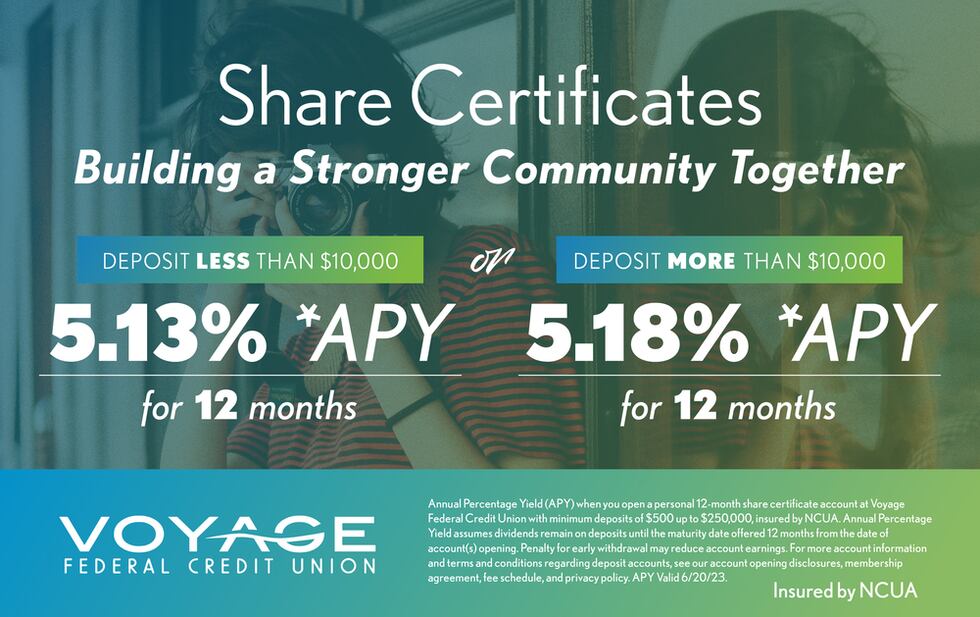 Sponsored - In a world where financial stability is both a goal and a necessity, Voyage Federal Credit Union stands as a steadfast partner, ready to guide its members towards a brighter financial future. At the heart of their commitment lies a remarkable offering: Share Certificates.
Navigating the Terrain of Share Certificates
Share Certificates, often referred to as Certificates of Deposit (CDs), are a beacon of financial security. They provide an ideal avenue for individuals to invest their funds while ensuring principal protection. Voyage Federal Credit Union's Share Certificate offerings are uniquely designed to cater to a diverse array of financial goals, whether it's saving for a major purchase, building an emergency fund, or securing your retirement.
Steadfast Security and Predictable Returns
One of the most appealing aspects of Voyage's Share Certificates is the reliability they offer. With fixed terms ranging from months to years, members can anticipate steady and predictable returns on their investments. This stability is a soothing balm in an unpredictable financial world, granting members the peace of mind they need to focus on their life's endeavors.
Diversity in Options, United in Benefits
Voyage understands that financial needs are as diverse as its members. This is why their Share Certificate options come in various terms, allowing individuals to choose the one that aligns best with their financial aspirations. From short-term certificates ideal for quick goals to long-term options that anchor retirement plans, Voyage has crafted a range of options that accommodate different timelines and objectives.
Embarking on a Journey with Voyage's Promotion
Adding an extra layer of excitement, Voyage Federal Credit Union currently presents an exclusive promotion that sweetens the deal for prospective Share Certificate holders. This limited-time offer accentuates the benefits of joining the Voyage family. With competitive interest rates that outshine market norms, members can maximize their earnings while still relishing the security of a federally insured investment. You can invest just $500 for 12 months and earn over 5% back on your savings!
Why Choose Voyage Federal Credit Union?
The financial world is teeming with options, yet Voyage Federal Credit Union distinguishes itself in more ways than one. As a member-focused institution, Voyage places its members at the center of its operations. Here's why becoming a part of Voyage is a decision that aligns with financial wisdom:
Community-Centric Approach: Voyage isn't just a credit union; it's a community. Members are not mere account holders, but stakeholders in a collective pursuit of financial well-being.

Expert Guidance: Navigating the world of investments can be complex. Voyage's team of financial experts stands ready to guide members through the nuances, ensuring informed decisions that optimize returns.

Ethical and Transparent: With Voyage, what you see is what you get. There are no hidden fees or surprises, only transparent offerings designed to empower members.
Voyage Federal Credit Union's Share Certificate offerings are a testament to their commitment to members' financial success. This is an opportune moment to embark on a secure journey towards achieving your financial aspirations. Whether it's the predictability of returns, the diverse options, or the unparalleled sense of community, Voyage stands tall as the partner you need for a steady and prosperous financial voyage. Take the leap, and let Voyage guide you towards a brighter financial future.